Afternoon tea emerged in the mid-1800s in Britain as a way of bridging the gap (for rich folk) between lunch and an evening meal. This explains why you'll often find it in hotels and other Anglo-Irish style institutions in Dublin.
Tip: look for a hotel with a great view. The view won't cost extra when you're enjoying it with a nice cup of tea.
Despite this, it remains a tradition cherished by many Dubliners, whatever their background. So let's see where the best afternoon tea is in Dublin.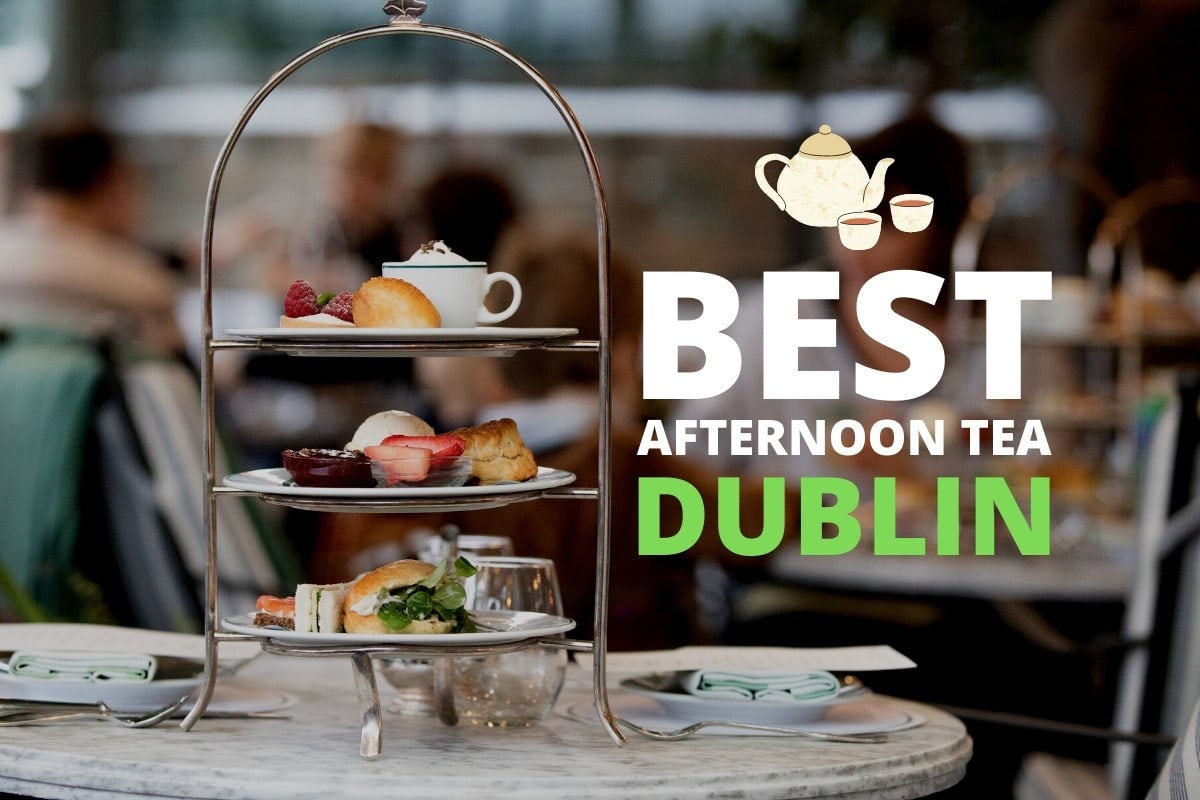 Shelbourne Hotel
Probably the most iconic hotel in Dublin, frequented by Michael Collins, JFK, and Princess Grace. No doubt they demolished some scones, sandwiches, and tea in the stately Lord Mayor's Lounge, where afternoon tea is described by the Shelbourne management as 'a symphony of gentle indulgence"….you can see the Brit influence already.
The Shelbourne wins hands down overall as the best place to enjoy afternoon tea, but it stands out in two areas that preserve tradition and presentation. This is an old-fashioned afternoon tea ritual; a pot of tea (and champagne if you want), followed by rounds of delicious cakes (served on a four-tier metal tray set) and sandwiches presented on fine china with fresh flowers.
The highlight of the savoury menu is the whiskey-cured smoked salmon on Guinness bread, and the sweet treat menu has dark chocolate and rich coffee eclairs that will either kick your heart into gear or stop it entirely.
The Shelbourne's classic afternoon tea menu costs €55 per person, or €73 if you include champagne.
The Ivy
13-17 Dawson St, Dublin, D02 TF98
What if it's the last day of the month and you're craving afternoon tea? Good news, the Ivy's lavish afternoon tea is only €19.75, or €32.50 with champagne.
They're not trying to break any barriers here, and the Ivy's smoked salmon doesn't come on Guinness bread (just regular delicious soda bread). But the tasty food menu is mouth-watering nonetheless, with a truffled chicken brioche roll, and…wait for it, a crème brûlée doughnut as the shining star of the sweets menu.
This is a cut above "cheap and cheerful", and stands out as an affordable option, amongst some very pricy alternatives, as the best deal on afternoon tea.
Iveagh Garden Hotel
72/74 Harcourt St, Saint Kevin's, Dublin
Another classic afternoon tea offering. The Iveagh Garden Hotel blends elegance and modernity in its aesthetic and decor, and keeps scones and handmade sandwiches on the menu. With their tea selection, they go a bit further than most, which is refreshing.
Having afternoon tea at the Iveagh also means you get to stroll around their lush gardens.
Make sure to book 48 hours in advance. Tea options cost €42 for the standard version and €50 with champagne.
Morisson Hotel
Ormond Quay Lower, North City, Dublin
Gender norms have changed a lot in recent years, and the concept of afternoon tea is a fairly "dainty" pastime. Adapting afternoon tea to a more archetypally male taste profile, the Morrison Hotel challenges the gendered dynamics of afternoon tea.
What taste is that you ask? Beer and burgers. Ok, this is not traditional by any means, and could even be considered a hijacking, a masculine cultural appropriation of a feminine tradition. But the proof is in the pudding, and they've gone beyond just getting men involved, if you're gluten-free or vegan, you're welcome at the Morrison….although separately.
Their Gentlemen's Tea includes steak sandwiches, beef sliders, smoked rasher scones, and a bottle of Wicklow Wolf beer for the reasonable price of €32 per man (but women are also welcome).
The Morisson Vegan Afternoon Tea is also €32 with tea or coffee, and €39.50 with a cocktail. While the sandwiches are decent, nothing spectacular stands out. Their bit-size sweets, on the other hand, will satisfy some major vegan cravings, particularly their raspberry and goji brownie, and the coconut and passion fruit panna cotta.
The Westin
College Green, Westmoreland St, Dublin, D02 HR67
The Westin hosts afternoon tea in their famous five-storey high glass Atrium Lounge, with its velvety blue chairs and floral paintings adding to the aesthetic of the experience. Not to mention the resident pianist who serenades diners from Friday evening to Sunday afternoon.
Like other businesses in this list, The Westin is pushing the line between fine dining and simple sandwiches. The hotel competes with The Shelbourne for the best smoked salmon on Guinness bread….The Westin has caviar, so you be the judge. Is it notions? Or is it taste?
Their scones are fairly "out there", with an artisan lemon drizzle cake that's certain to turn heads. And their sweets are Instagram and Irish Times picture-perfect, most notably the burnt orange and dark chocolate slice that looks like it could bend your fork it's so heavy.
For all the decadence, afternoon tea in the Atrium Lounge actually starts at €49.00. Which is pretty reasonable for a caviar event. It's only an extra €10/11 for adding a signature cocktail or glass of prosecco.
Póg
Trinity Plaza, Tara St, Dublin 2, D02 YP46
Póg's Tara Street location does not shy away from tradition, instead loudly announcing that it doesn't care. They've kept the basic format, and the name, but their entirely Vegan Afternoon Tea menu swapped out the longstanding scone and a sandwich for the more modern mini avo toast with pomegranate seeds, jambon/vegan sausage rolls, and then a range of vegan desserts that change daily.
It's not the Shelbourne, and it's certainly not trying to be, it's ingenuity and ability to change, but maintaining this tradition makes it one of the most unique places to have afternoon tea in Dublin, maybe even Ireland.
The menu isn't cheap, it starts at €30 per person, rising to €37 with prosecco (bubbles on the menu), and then €47 for the bottomless option.
Vintage Tea Tours
All around Dublin, but starting at 4- 6 Essex St E, Temple Bar, Dublin 2
If Póg is one of the most unique afternoon tea places in Dublin, Vintage Tea Tours is probably THE most unique. Sure, it's designed as a gimmick for tourists or corporate events, and sounds like a recovering addicts hen party, but it's undeniably good craic for €47.50. Cruising around Dublin listening to jazz and eating cakes sounds like a winner, the only real disadvantage of this is that it only lasts 70-80 minutes before you're hoofed out.
They have both vegetarian and traditional options for savouries and sweets, but might let a few vegans down.
There's no formal tour or script, so you can be left to your own devices, or have chats with the knowledgeable staff too.
If you like tea, but would prefer something sweeter and, dare we say, hipper? Check out the best Bubble Tea places in Dublin!