Planning a family trip to Dublin and want to know what to do that's actually fun for the little ones? Well, I can help you with that one. I've compiled a list of the best family-friendly activities in Dublin so you can keep your crew entertained.
Would the kids (regular ones) and big kids (dads) in your group be interested in Dublin's wild Viking and medieval history? Head to Dublinia. More of an animal lover family? Check out Dublin Zoo, which has over 400 species of friendly, fierce, and furry beasts. And I've got to mentoin the wonderful (and absolutely massive) Phoenix Park, one of Europe's biggest urban parks.
Then there's an usualy choice: Kilmainham Gaol where you can learn about the city's past (more on that later)
If you're feeling a little more adventurous and want to explore outside of the city centre, Malahide Castle and Gardens is perfect for you and the kids. They've got everything from a fascinating history of the castle to gardens with a fairy trail, and playground. And if you're looking for an educational experience, Science Gallery Dublin has a unique mix of science and art that will impress the harshest of little critics.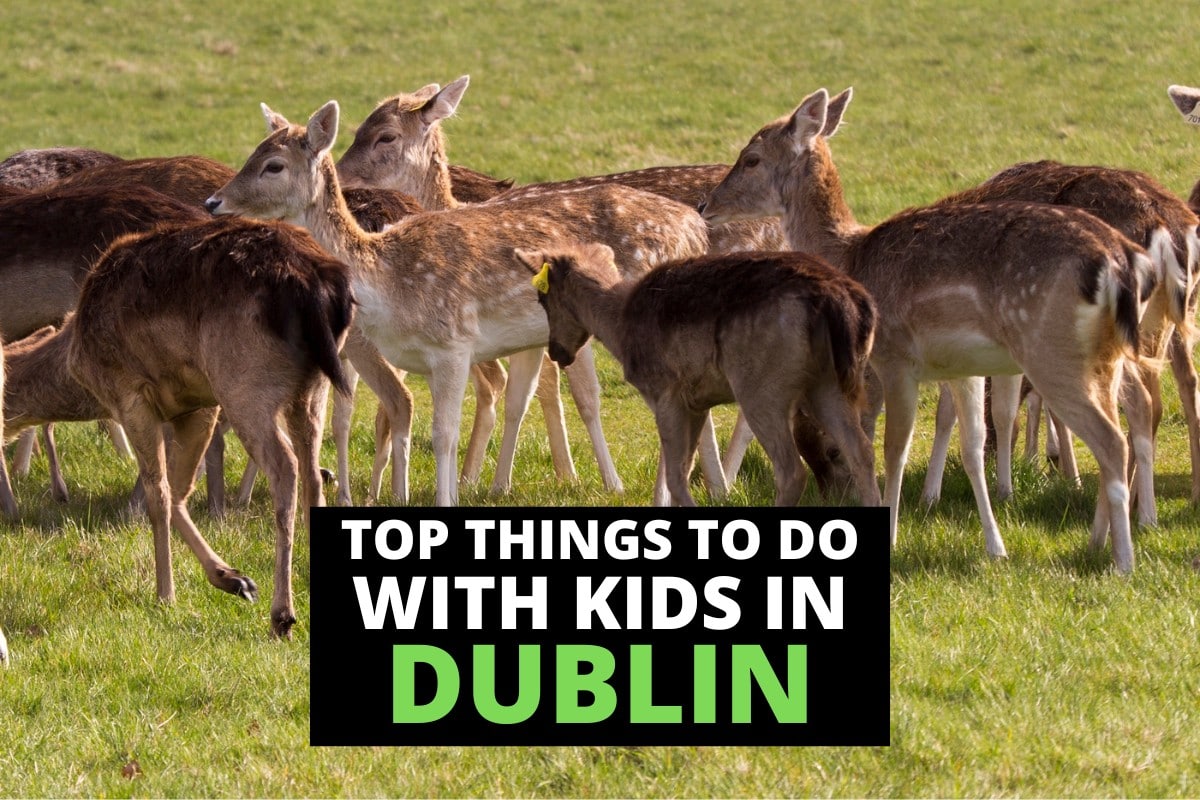 So, no matter what you're looking for, we've got you covered. Here we go:
Dublin Zoo
Located in Phoenix Park, Dublin Zoo is home to over 400 animals from all over the world, including tigers, elephants, and monkeys.
If you're traveling around Dublin with your kiddos, don't miss Dublin Zoo! It's a must-visit spot, especially for animal lovers. There are over 400 species to discover, from big cats to insects, and the enclosures are really impressive. Your kids will have a blast learning about conservation, ecology and biodiversity at the "Discovery and Learning" center.
Plus, Dublin Zoo is situated in the beautiful Phoenix Park, Europe's largest enclosed public park, which is a great bonus. However, be aware that during peak season, it can get pretty crowded, so be sure to plan ahead and arrive early to avoid the lines.
All things considered, a trip to Dublin Zoo promises to be a great time for the whole family.
Dublinia
An interactive museum located in the heart of Dublin, Dublinia explores the city's Viking and medieval history through a series of exhibits and interactive displays.
If you're looking for an educational and entertaining experience in Dublin, Dublinia is a great choice. With interactive exhibits showcasing the Viking and medieval eras, there's plenty for kids to learn about and get hands-on with.
And then there's the exciting Viking Experience – a simulated ride through history that's sure to capture their imaginations. Just bear in mind it can get quite busy during peak season, so I recommend arriving early to avoid the queues. All in all, Dublinia is fantastic fun for families!
Phoenix Park
One of Europe's largest urban parks, Phoenix Park is a great place for families to enjoy a picnic, take a bike ride, or visit the Dublin Zoo.
Phoenix Park is a great spot for the whole family. It was always a hit with my family when I was growing up. With lots and lots of lush greenery, there's plenty of room to run around, play and picnic. Get up close and personal with some of Dublin's wildlife – keep your eyes peeled for deer, swans and other cute animals that kids love.
From Áras an Uachtaráin (the official residence of the President of Ireland) to the Wellington Monument and People's Gardens, there's something here to keep everyone entertained.
Don't forget those comfy shoes though – it's big enough you'll be doing some walking.
Kilmainham Gaol
A former prison, Kilmainham Gaol offers visitors a glimpse into Ireland's turbulent history, with guided tours that explore the jail's past. Yep, a gaol/prison might not sound like the the best place for kids, but trust me, this is a different experience. And one the adults will love as much as the kids.
Explore Irish history and get a glimpse of life for prisoners at Kilmainham Gaol, a former prison in Dublin that has been transformed into a fascinating museum. Get an interactive educational experience with an array of exhibits perfect for children, and knowledgeable guides can answer any questions you may have.
Perfectly situated near other popular attractions in the city, you can easily make a day out of your visit. I'd like to point out that there's a bit of an eery vibe (it was the scene of incredible suffering for many years, after all) so it may not be suitable for young kids or those who are easily upset. The organizers and tour guides do their best to make it lighthearted, and for some kids, it's very exciting. but for others, it's a bit of a buzzkill. So keep this in mind.
Also plan on spending a few hours here as the guided tours take time.
Science Gallery Dublin
A space for science and art to intersect, the Science Gallery is located in Trinity College Dublin and has a variety of exhibits and workshops for children and adults.
Would you like to do something entertaining and educational with the kids in Dublin? You can't go wrong with the Science Gallery! Here, your family can explore the fascinating intersection of science and art through a range of eye-catching exhibits. Plus, best of all – admission is 100% free! At the Science Gallery, you'll find plenty to keep everyone entertained. With interactive installations, virtual reality experiences, and more – this place covers everything from sustainability and the environment to the human body and beyond! Plus, it's a fun way for children to learn about their world in an engaging and inspiring way. So if you're looking for a unique opportunity to encourage your children's curiosity and creativity, then take them to the Science Gallery today!
Malahide Castle and Gardens
Located in the coastal town of Malahide, just north of Dublin, Malahide Castle and Gardens is a popular spot for families, with its impressive castle and expansive gardens.
Malahide Castle is a must-visit for families. Step back in time to the 12th century and explore the castle's rich and fascinating history on one of their guided tours. Hear tales of battles, intrigue, and the Talbot family who owned it for nearly 800 years! Kids will also love discovering the castle gardens – with a fairy trail, playground, and even peacocks showing off their feathers. And in summer, don't miss out on their Fairy Festival – face painting, storytelling and plenty of activities to keep everyone entertained! Malahide Castle has something for everyone, making it a great day trip from Dublin!
Malahide Castle has it all. Located just outside Dublin, the 12th-century castle is a sight to behold, with its beautiful restoration and fascinating tales of past battles, political intrigue and its 800 years of ownership by the Talbot family. But beyond its historical relevance, the grounds offer plenty to keep families entertained too – from a fairy trail in the gardens to an animal aviary and playground!
The gardens are an absolute paradise, covering over 260 acres of meadows, walled flower beds, vegetable plots and hedgerows perfect for hide-and-seek. It's also home to some resident peacocks that strut around proudly displaying their impressive feathers. During summer months you can even enjoy the Fairy Festival held in these magnificent gardens – with face painting, storytelling and much more.
Malahide Castle offers something for everyone: history buffs will love learning about its past while kids will have tons of fun discovering the wonders of nature.
National Museum of Ireland
The National Museum of Ireland has a range of artefacts and exhibits that explore Ireland's rich archaeological history.
The National Museum of Ireland is a great place for families to explore and learn about Irish history and culture. Split across several locations, the Archaeology Museum in Kildare Street is particularly fascinating. Here, you'll find an incredible collection of artifacts from prehistoric Ireland, including the renowned Tara Brooch and Ardagh Chalice.
The museum's exhibits are detailed and informative, making it an excellent place for both parents and children to learn more about Ireland's past. Plus, there are plenty of interactive exhibitions and activities and experiences to keep the kids engaged can don Viking helmets, examine ancient swords and shields, and even create their own jewelry. The museum also offers a great audio guide tailored specifically for children, making it even more fun and educational.
St. Stephen's Green
A beautifully landscaped park in the heart of Dublin city centre, St. Stephen's Green is a great place for families to relax and enjoy a picnic, and is also home to a playground for children.
St. Stephen's Green is a beautiful park located in the heart of Dublin city centre, offering families a peaceful and tranquil space to relax and enjoy the outdoors. It's a great place to go for a picnic or just sit and read a book surrounded by nature. The park is home to several monuments dedicated to famous Irish figures like Constance Markievicz and Charles Stewart Parnell, as well
There are plenty of activities for kids and adults alike. For the little ones, there's a great adventure playground with swings, slides and sand pits, plus an amusement area where they can enjoy a spot of mini-golf or try their hand at some archery. The lake is perfect for children to observe the different types of birds and fish, while those brave enough can take on the challenge of paddle-boating around the lake. There are also regular events like lantern making workshops, nature walks and storytimes taking place in the park throughout the year.
National Aquatic Centre
Finally, if you need to tire the kids out after even all of that adventure, the National Aquatic Centre: Located in Blanchardstown, north Dublin, the National Aquatic Centre has a variety of water-based activities, including a wave pool, water slides, and diving boards.
Hints and Tips
If the kids are peckish, bring them to one of Dublin's best bakeries.
When the parents are feeling a little tired from touring the city with kids, a nice coffee from one of Dublin's many specialty cafes or breakfast cafes will help.
When it comes to meal time or even snack time, don't go bankrupt with Dublin's high prices, check out one of the city's affordable eateries.
If you want to do everytghing on the cheap and the kids are a little bit older, check out this list of things to do in Dublin when your budget is tight.
When it comes to sleeping in the big smoke, a room with a view is always welcome.
How to visit everything on the list
A guide to seeing the Dublin itinerary via public or private transport in one day (possible but not recommneded, especially when you have kids in tow)
Based on the GPS coordinates provided, here is a possible travel itinerary that minimizes the distance to travel between all top 10 places to visit in Dublin for visitors with children in one day:
Start your day at Phoenix Park (53.3600° N, 6.3260° W), where you can explore the park, enjoy a picnic, rent bikes, or visit the Dublin Zoo (53.3572° N, 6.3043° W).
Next, head to St. Stephen's Green (53.3378° N, 6.2597° W), which is a 30-minute walk or a 10-minute taxi ride from Phoenix Park.
From there, take a taxi to Dublinia (53.3435° N, 6.2715° W), where you can experience life in medieval Dublin and climb a tower for great views of the city.
After Dublinia, take a short 10-minute taxi or public transportation ride to Kilmainham Gaol (53.3412° N, 6.3083° W), a former prison with a fascinating history.
Next, take a taxi or public transportation to the National Museum of Ireland – Archaeology (53.3409° N, 6.2544° W), where you can learn about Irish history and culture.
Finally, end your day with a visit to the National Aquatic Centre (53.4044° N, 6.4129° W), where your family can enjoy the water park, swimming pools, and even diving lessons. It's a 25-minute ride away, but well worth the trip.
Note that some of the distances between these locations are not walkable, and it is recommended to use a taxi or public transportation to minimize travel time. It is also important to check the opening hours of each location before planning your itinerary, as they may vary.