There's nothing like Dublin, the vibrant capital of Ireland. It's a grand place to spend a few days and there are plenty of hotels to choose from. But don't settle for a mediocre hotel room. To truly take in the beauty of this vibrant capital, you need a room with a view. Imagine waking up to stunning cityscapes or soaking in the skyline with a drink in hand. It's like your own personal cinema, with the best seat in the house.
If you're headed to this beautiful city, staying in a hotel with a gorgeous view is one of the best ways to experience its charms. Staying in a hotel with an unforgettable view can enhance your vacation experience.
With its beautiful Georgian architecture and picturesque scenery, the Irish capital has some truly stunning views from its many budget, mid-range and luxury hotels
From rooftop bars with stunning panoramic views to luxurious terraces overlooking iconic landmarks like the iconic Ha'penny Bridge, to the vibrant streetscapes of Harcourt Street and Grand Canal Dock, there are plenty of options for finding a hotel with a superb view in this city.
In this post, we'll look at some of the best hotels with remarkable cityscapes in Ireland's biggest and most popular city.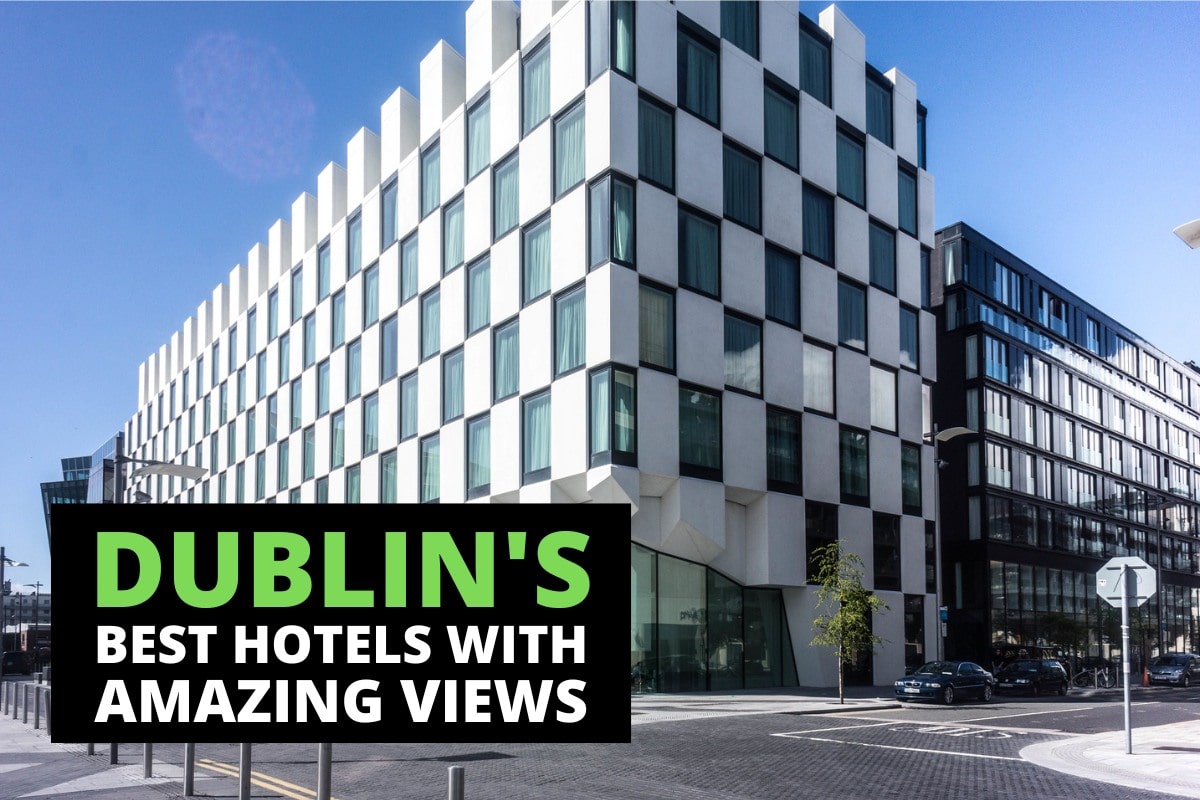 The Westbury
Located near Grafton Street – one of Dublin's major shopping districts – The Westbury Hotel offers some truly spectacular views of the surrounding area. The Westbury is an ideal choice for travelers who seek scenic accommodations in the middle of the all the action.
Featuring luxurious amenities such as marble bathrooms and contemporary furnishings, fine Irish linens and private balconies or terraces on select suites, the Westbury provides guests with an unforgettable experience during their stay. The 4.6 out of 5 star review score from almost 1700 reviews on Google says it all. This place is a solid choice.
For those looking for something extra special, The Westbury also offers suites with panoramic cityscape views for an elevated stay in one of Dublin's premier hotels.
The Marker
For those seeking unparalleled views across Dublin city centre, then The Marker Hotel is your go-to destination. A short walk from Grand Canal Dock – one of the most up-and-coming areas in Dublin – this luxury five-star establishment offers stunning panoramic vistas over the River Liffey and out towards O'Connell Bridge and Trinity College further downriver.
Not only does The Marker deliver comfortable accommodation within striking interior design features but amenities such as a rooftop bar/terrace offer unbeatable nighttime views across Ireland's capital city whilst enjoying live music performances or simply grabbing drinks after dinner.
Overall, guests at The Marker hotel in Dublin have consistently praised the view as a standout feature of their stay. From the rooftop bar and restaurant to the individual rooms, the hotel offers a variety of ways to experience the stunning scenery of the city. Whether you want to people-watch, enjoy a meal, or simply take in the sights, the view from The Marker is truly unforgettable.
The Dean
33 Harcourt St, Saint Kevin's, Dublin 2
In terms of atmosphere and style that you won't find anywhere else in town – look no further than The Dean Hotel on Merrion Street, near Harcourt street. Guests are sure to appreciate their modern aesthetics and cool views of colorful streetscapes lit up by fantastic bars, restaurants, trendy cafes, pubs so much more.
Guests are sure to appreciate their modern aesthetics while still having access to natural light thanks to large windows which overlook colorful streets. The hotel provides an urban experience with all the comforts of home. Its contemporary design is sleek and modern, yet comfortable enough to ensure guests have an enjoyable stay.
No matter which room type you choose – whether it's a standard double or one of their luxurious suites – each guest is treated to a scenic skyline at night that can be viewed through large windows while they relax after a long day exploring Dublin. Whether it's breakfast in bed or dinner for two on your balcony, there's no better way to end your day than by watching as lights twinkle over iconic landmarks like St Patrick's Cathedral and The Four Courts. For those seeking adventure during their stay, The Dean Hotel also offers easy access to some of Dublin's most popular attractions; Temple Bar, Trinity College Library and Grafton Street are just minutes away from the hotel entrance, so you won't miss out on any sightseeing!
The Clarence
6-8 Wellington Quay, Temple Bar, Dublin 2
One cannot talk about hotels in Dublin without mentioning arguably the most famous hotel establishment in the entire city, the Clarence Hotel located right heart in the heart of Temple Bar. This snazzy building in the hyper-touristy district overlooks Dublin's iconic Ha'penny bridge on the River Liffey. Get a view of the city's river sparkling under the night lights as you wind down with a drink in the rooftop bar.
The hotel was once owned by two of Ireland's most famous rock stars, Bono and The Edge, members of the band U2. They transformed the hotel into a luxurious and stylish destination that attracted celebrities and high-profile guests from around the world.
Many guests comment on the incredible views from their rooms, balconies, and the rooftop bar. Guests can take in the sights of the nearby Dublin Castle, St. Stephen's Green, Trinity College, and the Irish Parliament. The hotel's rooftop terrace is popular for enjoying the views of Dublin at night.
The Alex
41-47 Fenian St, Dublin, D02 H678
Located on Fenian Street in the heart of Dublin's city centre, The Alex Hotel overlooks St Stephens Green Park and provides stunning views over many of Dublin's top attractions. From its rooftop terrace, guests can take in panoramic views across St Stephen's Green Park, as well as glimpses into some of Dublin's most iconic buildings such as Trinity College and Christ Church Cathedral. On a clear day you can also see up towards Phoenix Park, which is home to Áras an Uachtaráin (the President's residence).
The hotel itself is just a short walk from some of Ireland's best-known cultural attractions, including The National Museum Of Ireland – Archaeology, where you can find exhibits from prehistoric times through to medieval artworks; The National Gallery Of Ireland, which houses thousands of pieces from European painters such as Caravaggio and Monet; and even Grafton Street, one of Europe's most prestigious shopping districts where designer stores line both sides, creating an eclectic mix that caters for all tastes and budgets.
As night falls over the city, guests at The Alex Hotel are treated to vistas across sprawling rooftops while they enjoy dinner at Alvy restaurant located onsite or drinks at Sinclair Gin Bar next door.. Whether it be during summer nights when music drifts out onto street level or winter evenings when snow blankets everything beneath twinkling lights – these sights make for endless postcard worthy photographs.
The Hilton Kilmainham
The Hilton Hotel Kilmainham is a brilliant choice for travelers looking to take in the sights and sounds of Dublin. With its modern and spacious rooms, many of which feature large balconies with stunning views, guests can get an up close experience of the city's most iconic landmarks. From the hotel itself, visitors can enjoy panoramic vistas that take in some of Dublin's most impressive sights, such as Trinity College and Phoenix Park.
With each room offering floor-to-ceiling windows or private balconies, guests are sure to have spectacular views regardless of their chosen accommodation type. Not only this, but many visitors have commented on how clean and well-maintained all areas are at the Hilton Hotel Kilmainham; something that is essential for anyone looking for a comfortable place to stay during their holiday or business trip.
For those wanting a perfect view over Phoenix Park, one guest mentioned they had an excellent view from their room on the 4th floor while another noted that theirs was nice enough to see even up towards The National Gallery of Modern Art. With such awe-inspiring scenes right outside your window, it's no wonder why so many people give this hotel high ratings after staying here!