Want to get the highest-quality meat in Dublin, but don't know where to start? looking for the best butcher? We've done the legwork for you by spending decades sampling the products of Dublin's best butchers. It's a hard job, but someone's got to do it. And we're pretty confident in our recommendations.
The faceless supermarket pre-packed meat display won't be able to explain the difference between different cuts of meat or which choice cuts are best for which occasion. There might be a greater selection of meats at the big box stores but that doesn't mean you're getting the best deal. Quality butchers can help you choose excellent meats for dinner at no extra cost to you. We all know these shops with the jolly wise-cracking butcher who keeps everyone amused while providing quality beef, pork, lamb, and poultry.
Dublin is really a series of interconnected villages, and the village butcher has always been the focal point of every village. There are many great quality family butchers in Dublin and we'll look at some of them in no particular order. These are Master Butchers, with a great range including free-range chicken, free-range pork, and some rare breed meats. Some even have an online ordering service with delivery.
Customers want the highest standards of customer service, and hand-selected, grass-fed, local produce they feel the supermarkets can't deliver. And these days, we all know that supporting local businesses is the way to go.
If you want to buy the best quality meat in Dublin but you're not sure where to start, or you want to know which butchers in Dublin are the best-rated in the business, read on.
Get to know your local butcher!
Try something new!
FX Buckley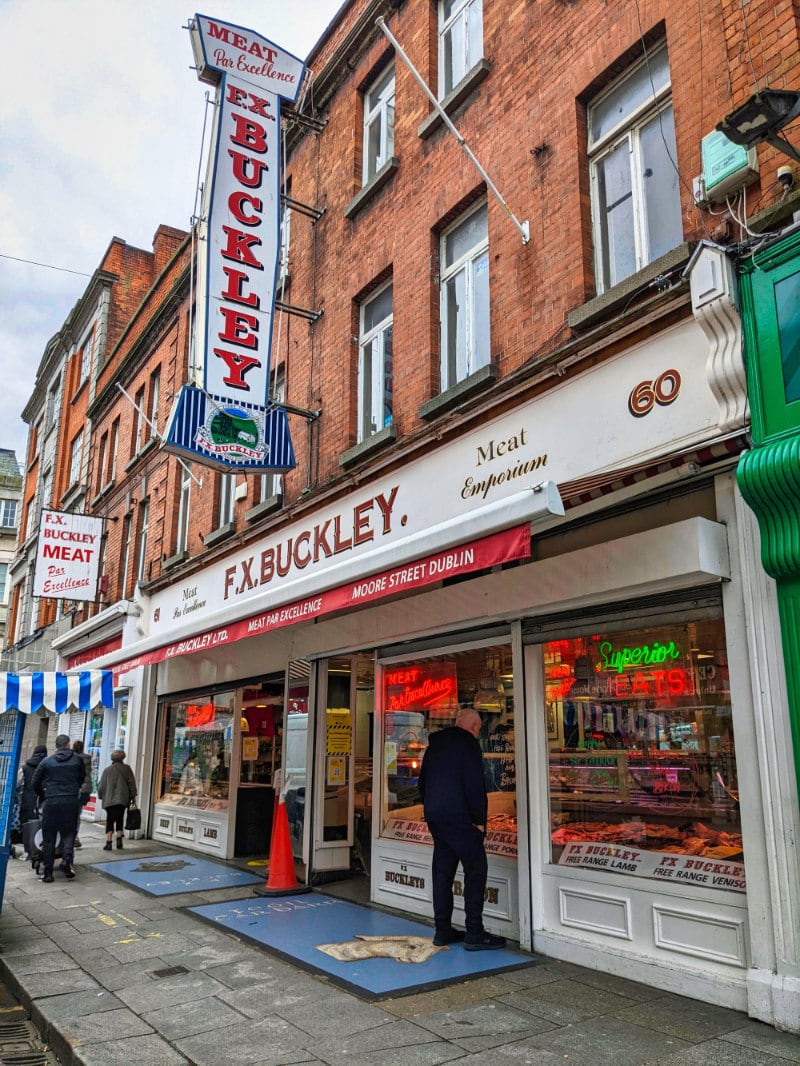 FX Buckley has been in business in Moore Street since 1932 and has four other shops around Dublin City.
If you are looking for some of the less fashionable cuts like tripe, oxtail, tongue, and beef cheeks, this is your destination.
They have meat counters in some high-end specialist grocery stores too. And of course, there is the famous FXB restaurant group.
Fenelons, Stillorgan
Another landmark butcher shop is Fenelons in Stillorgan. They were the first butchers in a shopping centre in Ireland when the first shopping centre opened in 1966. Fenelons has won the Craft Butchers Shop of the Year and have awards for their spiced beef and dry cured bacon made from free-range pork. An excellent fish counter adds to the attraction.
Customer service is their strong point too. Check out the garlic leg of lamb for the definition of scrumptious.
Cosgraves
Beating FX Buckley in the longevity stakes is Cosgraves whose story begins with Ellen Cosgrave in 1892. As their website says, "1892 – with 21 children, Ellen decided to set up a butchers shop at Eden Quay. After her husband's death at the turn of the century, the resilient widow opened another shop in Ranelagh circa 1901, and the family then opened a third at South Richmond street circa 1930".
There are now four Cosgraves shops in Dublin.
Side note: while not in Dublin, if we're talking about bragging rights, Furlongs in Wexford can probably claim to be the longest in business as butchers since 1623.
Higgins Family Butchers, Sutton
Across the bay, in Sutton, we have Higgins Family Butchers. Higgins has been in business since 1880, so we are talking about serious traditional methods handed down through four generations.
The current generation butcher, Rick Higgins imports real Japanese Wagyu beef and the famous Italian Chianina breed, famous for the Fiorentina steak. If you've never seen a Chianina, prepare to be impressed, they stand nearly six feet at the shoulder.
Dry aging cabinets (for sumptuous dry-aged beef) with glass walls add to the spectacle. The hand-selected, high-quality products on offer is simply not available in a supermarket.
Bradys Butchers
Brady's Butchers can't claim the longevity of the previous guys, only being in business since 1970, but their claim to fame is that their beef, lamb, and pork come from their own family farm in County Meath.
With four shops in Dublin, they have North and South of the Liffey covered. Dry-aged bacon, award-winning sausages, and a selection of prepared meats from farm-reared livestock make this butcher a destination for the hardcore carnivore.
Ennis, Rialto
Ennis Butchers in Rialto have been there since 1947 and for the last 20 years, Derek Bolger has been the driving force. Dedicated to sourcing the finest grass-fed meats, fish, free-range and organic chicken, bread, honey, and other artisan products, Ennis Butchers is a legend in Rialto.
Staying on the Southside of Dublin, you won't get more old school than Tony Byrne in Ranelagh. Tony doesn't have a website or a Facebook page that we could find, but the quality of the meat he sells often has customers queuing outside in the rain on busy days.
Dowlings, Rathmines
Dowlings in Rathmines is unusual in they are right beside their competition, James Whelan Butchers and Dunnes Stores. There was a butcher counter in Fallon & Byrne up to a couple of years ago, but the whole store closed.
Despite the competition, Dowlings is a thriving store with meats, and excellent butchers, who are knowledgeable about where the meats come from and also how to cook it. They even have their own online ordering app. Try the free-range pork chops and be amazed.
Seamus Cosgrave, Rathfarnham
Cosgraves in Main Street Rathfarnham started in 1940 and is now under the watch of Seamus Cosgrave. This store has won many awards from Associated Craft Butchers of Ireland for their sausages and their spiced beef.
Seamus strives to provide award-winning luxury meats at affordable prices and in the eighty years since they started, Cosgrave's has been a beacon of quality and knowledgeable service. Try their spiced beef for a Christmas treat.
Smyths Butchers, Raheny & Portmarnock
Smyths in Raheny and Portmarnock is another family business that has been butchers since 1930. Beginning in Fairview and moving to Raheny in 1955 they are on the third generation of this family business. Willie Smyth took over in the 1970s and drove the business forward and now the next generation, his son Brendan and nephew John are running the show.
Quality produce and quality service are the watchwords in Smyth's and they have won awards to prove it. There is a high emphasis on preparing your favourite cuts of meat from full carcasses which they mature themselves, ensuring they maintain the quality they are famous for.
Ethersons, Cabra & Castleknock
Ethersons don't have the generational background some of the other Craft Butchers have, but they are committed to providing Cabra, Castleknock, and the surrounding areas with better quality and value than any of the leading supermarkets.
As a member of the Craft Butchers Association of Ireland, you can be sure of the very best, traceable, traditionally prepared meat available anywhere in Ireland! Friendly, knowledgeable staff, meat from their own farm, a huge range and excellent quality combine to make this one of the butchers you should visit.
Keenan & Kennedy
Brendan Keenan is a master butcher who runs this shop which has been present in Finglas since the 1960s when the Barry Avenue shop was opened by Jim Keenan and Dennis Kennedy. K & K have won awards for their sausages, white and black pudding, and bacon for many years and are proud of their tradition as Craft butchers.
Knowledgeable staff, some of them there for over 20 years, will guide you in your purchasing and have plenty of cookery tips for how to get the best from your food. You just have to try the sausages and puddings made
Midland Meats
Midland Meats are award-winning butchers in Clearwater Shopping Centre in Finglas. The present generation of the family is the latest in a long line of farmers and butchers with their own farm in Westmeath. Highest quality cuts of meat, excellent service, friendly staff, great value products, and convenient ready meals, what's not to like?
The online ordering service is easy to use and they will give you every 11th order free. (based on the average of the previous 10 orders).