Bus, taxi, bike, stroll, amble, stumble, crawl….there's always a way to get from A to B. Here's our comprehensive guide to the best options for getting around Dublin city and suburbs.
Dublin lacks the size of other European capital cities, and any reasonable person would think that this would make it a transport paradise for locals and tourists. However, this is not the case. Things are improving, but nonetheless require some finesse and political will. There is still a lot of work to be done.
Pre-pandemic, 33 million people passed through Dublin airport's doors and customs every year. Visitors were probably confused to discover that there is no rail line connecting the airport to the city, and the Dublin bus service is….erratic at best. Taxis are the least complicated way that visitors begin their Dublin transport experience. So let's start there.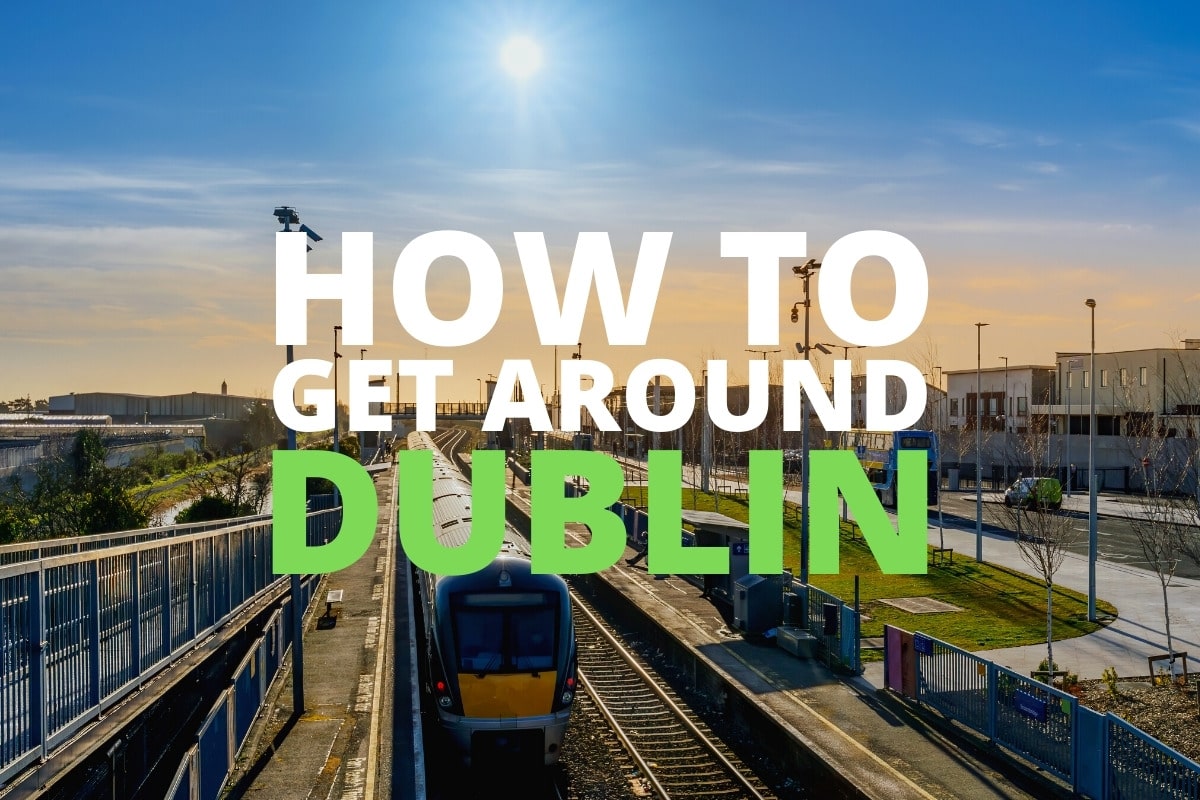 Taxi
Regular taxis are an efficient, but expensive option to get around Dublin. Taxi services can use bus lanes and skip the worst of any traffic so the time-cost ratio can be a massive benefit if you're in a hurry.
If Traveling in a couple or on your own, you can easily spend €20 for relatively short trips.t for groups. However, group and family fares are often more economical than paying multiple bus fares, and taking families on an urban cycle is too risky.
Ireland has different taxi regulations from other countries, meaning Uber operates the same as other taxi companies and doesn't lead to any savings for its users. However, those familiar with the app should still use it since it saves the hassle of learning a new system, just bear in mind not all taxis use Uber. The same applies to people who use Bolt users.
The obvious advantage of taxis is that they operate at all hours, and are tailor-made to your journey.
Drive
Driving might seem like the most convenient option for getting around Dublin but it's a lot more complicated than you think. And then there are the environmental and social factors. In short, don't do it! For the environment, the cost, and the effort. Less driving makes the city a more liveable place.
I try to avoid driving in Dublin as much as possible but sometimes it's necessary. There is always a lot of traffic in the city and cycling is much more enjoyable and efficient if you don't have to carry anything or pick up anyone. Whenever possible, avoid driving during rush hour if you have to drive. I try to drive from 2 pm to 4 pm, or after 6 pm if I can.
Dublin has beautiful medieval streets that make for amazing city strolls, and horrendous driving experiences. The city has a lot of cyclists and pedestrians, and a cavalier approach to red lights. Not only is driving inefficient to get around the city, it's also incredibly frustrating and boring. I think you get the message.
If you have to drive as a tourist or non-car owner, GoCar is worth a look. Sign up on the app. Be aware that people from most countries will need an international driver's permit to drive in Ireland, unless you're from The US, Australia, NZ, Canada, Iceland, Norway, South Africa, or Switzerland.
For a day trip to County Wicklow, the Dublin Mountains, Howth Head, or to the ancient Celtic sites around the Boyne or Slane area, then a standard rental company like Hertz, Enterprise, or GoCar are the best ways of getting around. Public transport will rarely get you where you need to go once you're leaving Dublin city. The Dublin and Wicklow mountains are only about an hour away from the centre of O'Connell Street, making them highly accessible for a day trip.
Parking in Dublin is reasonably cheap, with a few hours of parking costing less than the public transport ticket. But with the Green party in a coalition government at the moment this is looking to rise while public transport fares will drop. Secure parking facilities like Jervis Street Car Park cost €3.40 per hour and are open from 6 am to 10 pm Monday-Saturday, with reduced hours on Sundays. On-street parking has variable rates. Yellow and red zones are the priciest at €3.50 and €3/hr each. While green, orange, and blue go from €1.80 down to €.80c an hour. But good luck finding a blue in the city!
Irish roads are very safe, and we have low fatalities and generally safe conditions for drivers.
Bus
The bus network is the most diverse and widespread public transport service in Dublin. It is the most reliable mode of transport (when you factor in traffic etc), particularly now with live updates and smartphones. You can download the Transport For Ireland app for real-time updates and route planning.
Google Maps, Rome2Rio, and Moovit are handy tools for planning the journey ahead.
Leap Cards significantly reduce cost and increase convenience. They're available from most shops and major transport centres. This card can be topped and used across Dublin's public transport systems (bus, LUAS, DART) by tapping on and off.
The operational hours change depending on the routes starting at 5 am and ending at 12 am.
There is a Nitelink bus service that operates, as the name suggests, at night. At €4.50 with a leap card, or €6.60 with coins, it's not the cheapest service. And most of the people on the bus at night are likely to be drunken revelers going home. If you are one of these revelers and are with a few friends, it's probably cheaper to get a taxi if you're within 30 minutes drive.
DART
The DART service did itself a disservice by being built along the seafront, reducing its capacity to carry more passengers. But what a view! It's known as the poshest transport route in Dublin, sometimes mocked as the "Dorsh" because of its user's accents.
The DART is the best way to get from the coastal suburbs to the city, and for urban dwellers and visitors to get out to Howth, Dun Laoghaire, Bray, and Dalkey for a swim in summer or a jaunt on the hills and cliffs at any time of year.
The DART is faster than the LUAS since traffic stops for it, rather than having to wait at red lights as the tram does. It's not particularly cheap at €3.30 for a single ticket from Dun Laoghaire to Connolly station. However, this goes down to €2.30 with a leap card.
Timetables can be found on Irishrail.ie and the Irish Rail app.
The DART runs from 6 am to 12 am. The last trains leave the city centre at 11.30 pm. On Sundays, the service starts at 9 am until 11.30 am.
LUAS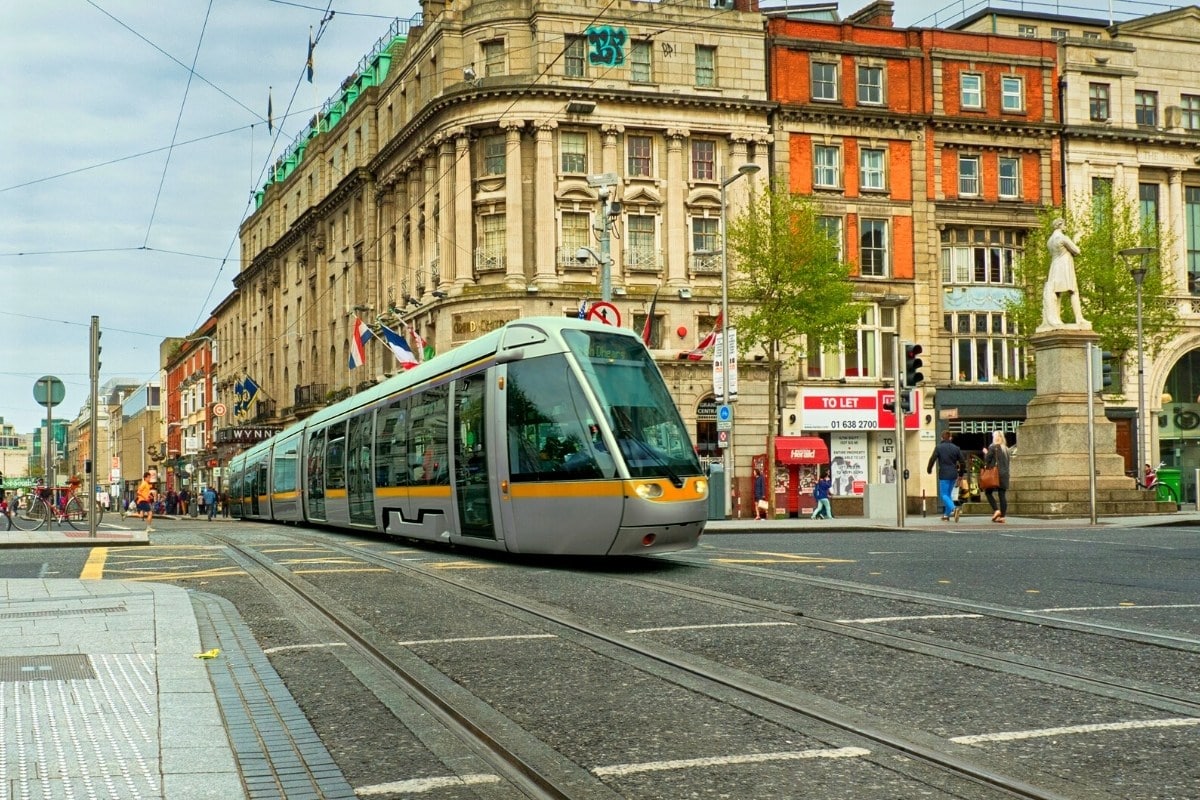 The LUAS was a much-needed addition to non-road based travel in Dublin, connecting Tallaght, Rialto, Drimnagh, Dundrum, Phibsborough to the city, as well as the soon-to-be large commuter areas of Carrickmines and Cherrywood. And they finally connected these two -the Red and the Green lines- to each other.
At peak times the LUAS runs at high frequencies, with a tram roughly every 3 to 4 minutes. This slows down to every 15 minutes at off-peak times.
The LUAS runs from 5.30 am to 12.30 am Monday to Friday, and 6.30 am to 12.30 am on Saturdays. On Sundays, it goes from 7 am to 11 pm. So prepare to take a taxi if you're out for a few drinks.
Like other public transport, the LUAS has recently seen an increased police and security presence to deter rampant fare evasion and occasional anti-social behaviour. The popular phrase that "the LUAS is free" (ie. don't bother paying for it) looks soon to be over.
Bike & E-scooter
Cycle lanes are a hot topic in Ireland at the moment, and the pandemic caused a major shift in how people want to experience the city. The government has added cycle paths along the River Liffey to make major arteries more accessible, and there are established paths along both canals that stretch all the way to the countryside. From the Irish capital, you can easily cycle to seaside havens like Clontarf and Howth to enjoy our coastal scenery and superb eateries.
The easiest, cheapest, and most flexible bike rental is with Dublin Bikes, you can register online or at any of the stations around the city. The service runs from 5 am to 12.30 am.
Although Dublin has been slow to adopt the e-scooter trend, it is now possible to buy your own electric scooter. While it may seem strange to some, many people are finding that e-scooters are a great way to get around the city. They're convenient, cheap and fun!
Although people do use e-scooters, they exist in a legal grey area where, technically, you should have road traffic insurance to ride one as they are considered "mechanically propelled vehicles". The police don't stop people for this, but if you get in an accident it can become relevant. Ask the rental company about this to be sure.
Cycling in Irish summer gives an unbelievable sense of freedom. Cycling shrinks the size of the city to something like a big town and gives you the ability to pack your day with anything on your list. You could cycle to the Phoenix Park (which has its own bike rental scheme too), to Kilmainham Gaol, up to Stoneybatter for a coffee or lunch with a pint all within a 10-minute cycle…..and still have the day ahead of you!
Second-hand bikes are readily available for pretty reasonable prices. The savings rack up very quickly compared to taking public transport, so it's worth spending at least €300 on a good bike, and at least €50 on a lock. Unfortunately, bike theft is rampant in Dublin so ensure to lock the wheels if they're quick release, lock it somewhere with a lot of foot traffic, and don't leave it out at night. One of my favourite second-hand shops is Bolton Cycles just north of Capel Street where bikes are assembled and sold at great prices with a 2-month warranty and really fast repairs.
Walk
Dublin is an incredibly walkable city. You could walk from the sea at Dublin Port up the river Liffey that divides the city in less than an hour, and going from Portobello in the South City to Phisborough in the North City in 40min. Doing that, you'd have covered the entire scope of the cities extremities.
Since Dublin is a fairly safe city, you can feel pretty safe exploring any backstreets and laneways to get off the main streets. One of our best features is the stunning architecture and tiny features you'll spot on old buildings, from little carvings dotted around neoclassical columns, to intricate tilework that you'd otherwise miss zooming around the place.
Visitors are often surprised at our willingness to stroll across the entire city on a whim, purely to switch pubs or get some food. Tourists often stand out for wearing rain jackets in the city (while locals don't don the jackets) and it's definitely a good idea. It rains, a lot. It's easy to be caught in the rain at any minute. Generally, Irish people have a reluctance towards umbrellas and rain jackets, we're a hardy, possibly optimistic bunch. On a fashion note, most restaurants and pubs in Dublin have a relaxed feel to them, so feel free to dress for comfort and wear comfy walking shoes. Unless you're going somewhere upmarket, no one will judge you for wearing waterproof boots, or sturdy runners.
Frequently Asked Questions
Can I get around Dublin on foot?
Yes. Walking is by far the best way to experience Dublin
Is it easy to travel in Dublin as a solo woman traveller?
Yes. Dublin is a safe city, but the same safety precautions should be observed like any other city.
How much is a taxi in Dublin?
Standard rates are from 8 am to 8 pm. Premium rates from 8 pm to 8 am.
Expect to spend €16-€24 to get from O'Connell St to Dublin airport at a standard rate for 2 people taking 20-30min.
How can I get from Dublin Airport to the city centre?
To get from the airport to the city center you've got several options:
Where is the best place to stay in Dublin for transport options?
Anywhere near O'Connell Street as it has the best transport links for city, suburbs, regional and airport travel.