There are a billion blog posts out there telling you where to go and what to do in Dublin. That's not to say there's anything wrong with them. They tell most people what they need to know. But I don't want to rehash the same old information. This is a guide to the "new" best things to do in Dublin, a list that might also include wacky or weird stuff.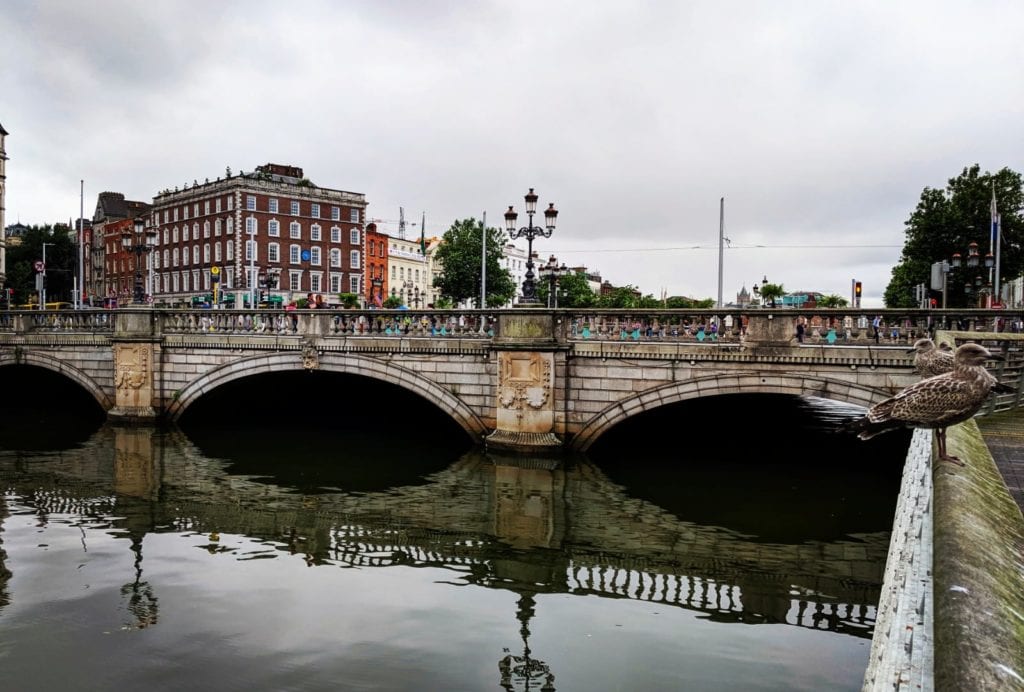 If you have plans to travel to Dublin and want to experience it a little different from every other tourist, check out this guide to some unusual things and non-touristy things to do and explore in this city of history, culture, and friendly people.
Know Before you Go
Dublin is small. To see most of the sites in the city, you won't need a car. It's more of a hindrance than a help to get around with your own transport, so I suggest using the buses, trams (LUAS), and taxis. Taxis are not cheap but use them sparingly and you'll be fine. Dublin is the 5th most congested city in Europe. On the other hand, Dublin is a great city for walking. The weather might play a part in this though.
Dublin is famous for its rain. Ireland, in general, is rainy. This is thanks to Ireland's location as the first island at the north of Europe to receive Atlantic storms and rain clouds. Expect to get wet. Bring a raincoat, an umbrella, and good shoes. Then you'll be fine. The rain never dampened Dubliners' spirits, so don't let it spoil your day.
Dublin is expensive. Bring money. Lots of it. Then you'll be fine.
Dublin is a young city: 50% of citizens are under the age of 25
The ultimate guide to unique things to do in Dublin.
Do A Self-Guided Dublin Statue Tour
Take a walking tour to visit the statues of famous Irish people.
By my count, there are around 30 full-sized (or lifelike) statues of famous Dubliners (and Irish people) immortalized in statues dotted around the city centre. To get to them all would require more than a day. Unless you're some kind of running machine, you have a motorbike, or you don't sleep.
The most interesting (and this is just my opinion) are the following, which you should add to Google Maps and get a selfie with each statue.
James Joyce – North Earl Street. For many people, the greatest writer from Ireland (and some say the English language)
James Connolly – Irish republican and the man they named Dublin's Connolly station after.
Mr. Screen (Fictional) – O' Connell Street. A cinema usher.
Luke Kelly – Sheriff Street. Located on one of old Dublin's least desirable streets, the status commemorates one of Ireland's best-loved folk musicians.
Brendan Behan – Royal Canal off Dorset St. Behan was one of Ireland's greatest writers of plays, stories, and poems.
Wolfe Tone – St Stephen's Green. The Irish revolutionary, father of Irish republicanism, and owner of a great name, later hijacked by the band the Wolfe Tones.
Oscar Wilde – Merrion Square Park. One of my favourites, this statue of the one and only Wilde, shows him reclining near where the famous author and poet grew up.
Admiral William Brown – Sir John Rogerson's Quay. Did you know that the founder of the Argentine navy was born in County Mayo?
Patrick Kavanagh – Wilton Terrace, Grand Canal Dock, Dublin. Dubbed "The crank by the Bank", the statue of Kavanagh on the bench is the scene for many selfies with the man himself.
Phil Lynott – Harry Street. The coolest musician in Ireland, Lynnott was the frontman for the band Thin Lizzy. He lived a wild and excessive short life but he'll never be forgotten.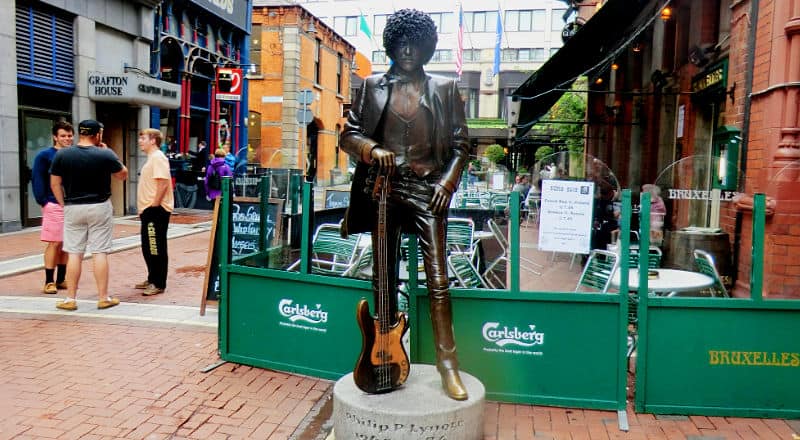 Eat on Capel Street
Capel St is now possibly the least "Irish" street in the city but it was once a traditional inner-city Dublin street. That's before the bland Irish food joints were outnumbered by Asian and Middle Eastern restaurants.
Capel Street is one of the best streets in the country for cheap and tasty food. Try some excellent and inexpensive international cuisine in Pho Viet, Hilan Chinese and Korean Restaurant, Musashi Noodles, and Bullet Duck & Dumplings (on a side street just of Capel St).
You'll also find two of Dublin's best Taiwanese Bubble Tea shops: Aobaba and YumCha (in case you haven't heard, bubble tea is a hot trend).
There are also a couple of Dublin's best coffee shops and bakeries here. And if you're looking for Dublin's top gay bar, it's right here.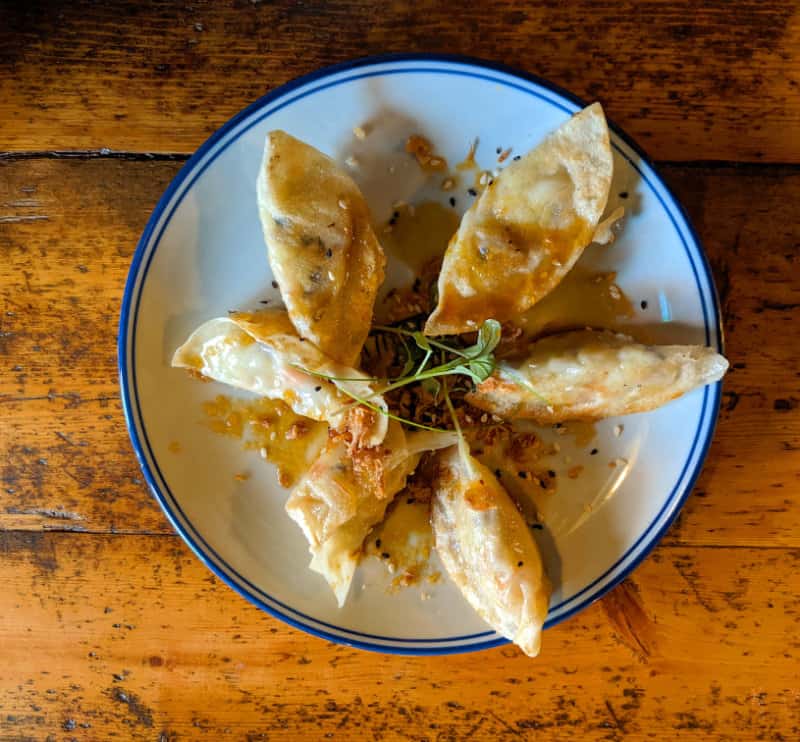 Go To The Pubs – With A Twist
Dublin is a city of cozy pubs and modern bars. Despite the decline in drinking as a "pastime" in recent years – these pesky millennials are all into wellness – the bar scene in Dublin has taken only a minor beating. Visitors to Dublin expect to go to a bar and enjoy the local friendliness. Just don't expect it to be a budget Dublin experience.
The city has no shortage of bars that are super popular with tourists but about as authentic as Santa Claus. Try them out. But there are other ways to see the bars of Dublin.
I recommend the Dublin Literary Pub Crawl or a Meetup. That way you get to experience something new. You'll get to meet new people and still get to a pub without the awkward standing around on your own (I'm talking to you, solo traveller)

If I had to pick two bars to visit in Dublin to get a sense of the old school drinking culture, those bars would be:
John Kavanagh. It's a bit out of the way, but it's a good spot to combine with a visit to Kavanagh's near Glasnevin's Botanical Gardens (a great spot to hang out—add that to your list). Anthony Bourdain visited on one of his trips to Ireland. That pretty much ruined it (I'm kidding). The bar maintains the old-school feel. There's no music, no tv or radio. Fancy cocktails are available but not encouraged. On the other hand, if you want to grab a nice creamy pint of Guinness and stare at it for a half-hour while you switch off your social media alerts, this is the place to do it. It's like an alcoholic wellness retreat and won't cost you a week's wages. Kavanagh's pub is nick-named the Gravediggers.
Mulligans. Glad to see that they haven't upgraded the place to suit the hipsters. Or maybe that's precisely why they haven't changed anything. Who knows? One thing's for certain, Mulligans is old-school cool. Get in there around lunchtime and have the place to yourself.
Fall In Love With Chester Beatty Library
Chester Beatty sounds like he could play in the US Open Golf tournament. But he wasn't a golfer, as far as we know. Beaty was a philanthropist, traveller, collector, and founder of one of the most interesting libraries in Ireland. Before you shake your head and say "it's another library", hear me out. This is special. Once called Europe's best library by Lonely Planet, the Chester Beatty is the collection of art and historical items by the eponymous private collector.
Museums might not sound like the coolest places on the planet. I've been bored in more museums than I can remember. But the Chester Beatty is different.
But it's less a museum and more of a collection of the man's travels – a collection of what Beatty was interested in. Donated to the state of Ireland to preserve for the public, the compact museum of art is a fascinating look at the cultures of the Middle East, Asia, and parts of Europe. And it's free. No excuses.
Set aside time for a tasty lunch in the bright and airy Silk Road café downstairs. Afterwards, take a stroll in the manicured gardens in front and walk back to the city centre through Dublin Castle.
Go To Church
You might find this place on the top 10 list of every other blog and guidebook to Dublin. But I have to admit, it's a good one. I bring friends here when we're all in town at the same time. Even if you're not a pub-goer or you shun alcohol, the Church Bar is worth a visit, if only for the novelty of visiting a den of debauchery in an ex-church.
Okay, it's not that wild of a place, but it is fun to know that once upon a time in this building, the only person sipping "wine" was a priest.
Do a Scavenger Hunt
A what? Isn't that just for boy scouts or something? Maybe, but it's fun. And nobody will know you're doing it. That is until your group of scavenger friends posts all over social media about how much fun they're having. Wish you were here, etc!
But seriously, this is a fun way to learn about Dublin, get some exercise, and do something most visitors to the city will never do. Enjoy the city, learn some cool facts to impress people in the pub with later, and get some wild stories for the folks back home.
Have afternoon tea
Splash out on an expensive (or not) afternoon of tea and cakes in one of Dublin's most luxurious settings. From posh hotels, to specialist restaurants, and hip bars, Dublin's afternoon tea scene is well worth a look.
Visit An 18th Century working library
Speaking of libraries, Marsh's Library is the oldest in the country (dating from 1707) and it still has its original seating and shelving. So there's a bit of Irish history there. 312 years, by my count. Founded by the wonderfully named Narcissus Marsh, this interesting place gets a fair number of visitors every year, but you don't often see it in the tourist guides. If you want something different for your Instagram collection or just somewhere interesting away from crowds or typical visitors, check out Marsh's Library.
You can find March's right beside St. Patrick's Cathedral in Dublin 8
Visit Number 14 Henrietta Street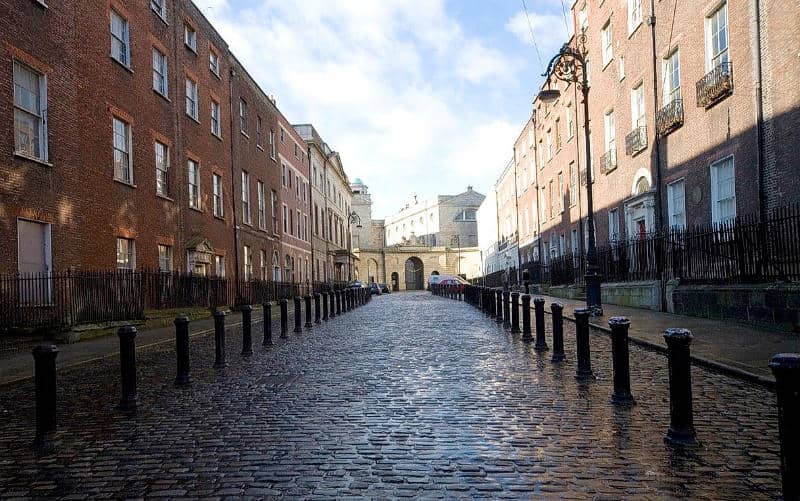 The Little Museum of Dublin is a popular tourist attraction, but another Georgian house on Henrietta Street, in the north of the city, is a lot more interesting.
14 Henrietta Street is almost 300 years old and was originally the home of Dublin-based aristocrats before turning into a tenement house packed with industrial workers. A house in those times often had 100 people living under the same roof. Picture that as you walk around the house. It's big, but it's not that big.
This is a look at the way people lived in the city during the last several hundred years. Built on an original tenement housing building, the museum offers a firsthand look at how people lived in the days of industrial revolution-era Ireland.
Guides recount stories of the original tenants and explain how people lived in these cramped conditions. It's a real eye-opener. Thankfully, the knowledgeable tour guides add a little humour to what might be a sombre experience.
Guided tours of 75 minutes must be pre-booked and are the only way to see the house. This is one of the most atmospheric buildings in the city and tells the history of wealthy and poor people of Dublin through good times and bad.
Enjoy Grafton Street's Buskers
Grafton Street is the main shopping area of the city centre. Not really the kind of place I like to hang out. Shopping is definitely down the bottom of my list of favourite things to do. But this street is ground central for buskers. On a nice day (or even a cold, and damp one) you'll find buskers all along the street. Musicians, artists, mimes, and well, anything else that might make the busker some money (legally).
U2 (or at least Bono and the Edge) perform here on Christmas Eve every year in a small casual concert that has grown to be a highly anticipated event.
Glen Hansard, ex-lead singer of the Frames and academy award winner, started here as a busker many years ago. Damien Rice was also a regular here before becoming a world-famous musician.
The Library at Trinity College.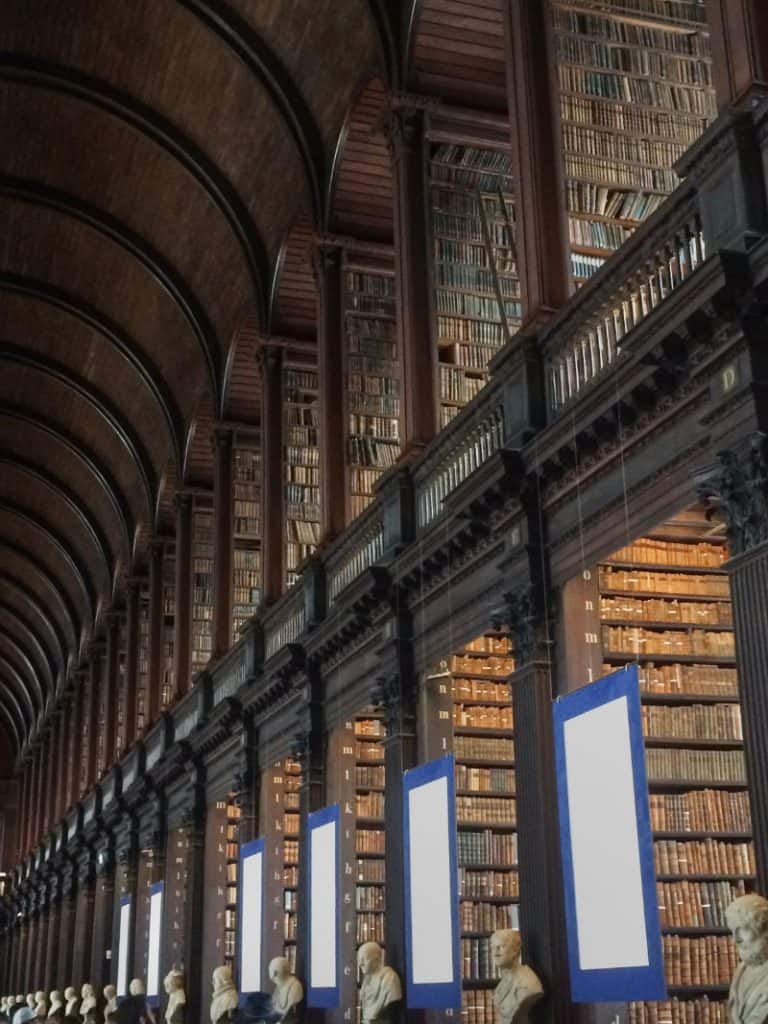 At this point, you complain that I talked about "different" things to do but I immediately talk about one of the most touristic locations in the country. That's because it's unmissable. If this post was the only thing you read about Dublin (unlikely, I know), and I left out Trinity College, you'd be missing one the city's treasures.
The Trinity College library should be one of the first things you do as it's conveniently located right in the center of town. Trinity College is one of the oldest universities in the world and it houses the most beautiful library anywhere.
Harry Potter fans might feel like they've landed in Hogworths (apparently – I've never seen the movies). The place is gorgeous. It has a historic "feel", and smells of old books and wood. All part of the ambiance.
You'll be sharing the space with hordes of tourists. But most of the interesting views are above their heads. No need to wait for a gang of Asian snappers armed with selfie sticks to move out of the way to photograph the beautiful arches (unless you want a wooden floor-to-ceiling photo. Then you'll need to get creative with Photoshop.
Despite the crowds, it's a quiet and dare I say, serene spot to spend some time.
The Trinity Library also contains a book. Not just any book though. This is the Book of Kells. Created over 1200 years ago by skilled calligrapher monks, the manuscript contains the New Testament and some other texts. The book is stunningly beautiful and is in great condition, despite its age. Only two (facing) pages are on display at any time. Come back every day for months if you want to see the whole thing.
The Book of Kells was painstakingly penned in the Abbey of Kells, located just north of Dublin County. It's one of Ireland's most prized documents of the history of the island.
While you're there, don't miss the (much more exciting than it sounds) Trinity Science Gallery
Tour Kilmainham Gaol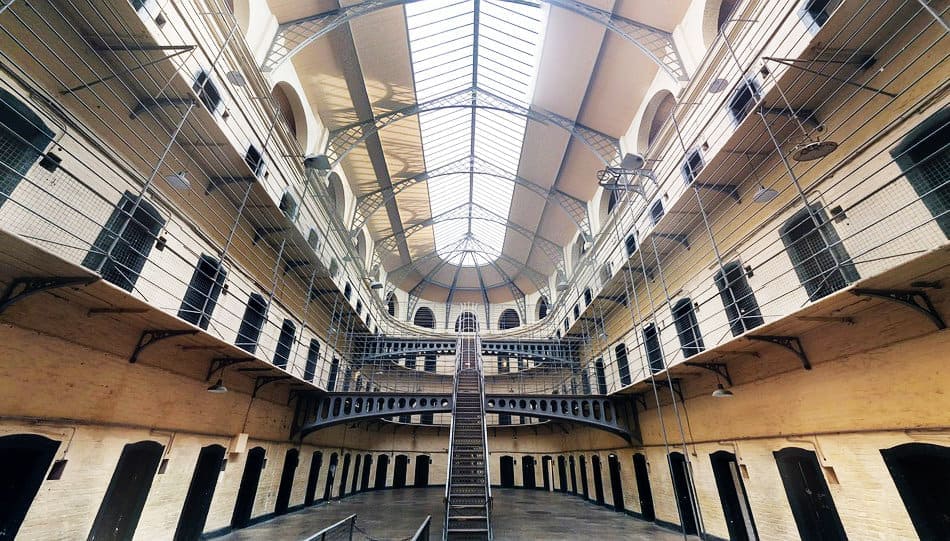 Here's a way to liven up your travel tales – brag to your friends about how you ended up in Jail in Ireland. Not quite as famous as Alcatraz or Rikers Island, but significant in the history of Ireland, Kilmainham was the infamous setting for the executions of the Easter 1916 rising rebels.
Thoughts of touring jail cells might not seem like the perfect way to spend an afternoon, but let me assure you, Kilmainham Jail is a must-see. It's been the backdrop of many movies, including In The Name Of The Father (one of Daniel Day Lewis's best) and the Italian Job (the original and best version).
Once you visit this historic building, you'll understand why it's on the list. An atmospheric and beautiful place, in many ways. The official guided tour includes a narrative of the history of the jail and the people that passed through it. Melancholy, fascinating, shocking, and exciting at the same time.

Visit The Phoenix Park.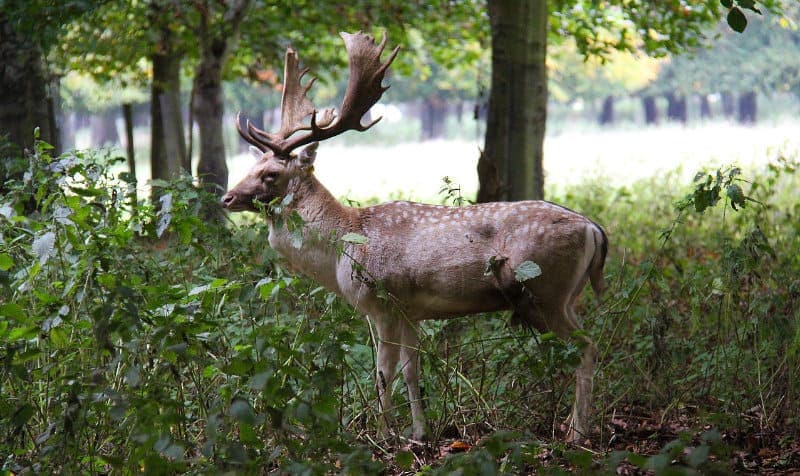 The guidebooks no doubt mention that this park, right in the middle of Dublin, has a wall around it. And it's huge. In fact, it's the biggest of its kind in Europe. The Phoenix Park is also the home of charming deer – The park was a place for the ruling British Royals to hunt back in the day.
There aren't too many things to spend your money on here and it's just a park after all (nothing for the Instagram bucket list) but it just happens to be a big beautiful swathe of peaceful green-ness in the middle of a capital city. This is one of the most popular spots in Dublin for kids.
Go there! The park can be found just north of the River Liffey to the East of Stoneybatter (one of Dublin's hippest neighbourhoods).
If you can't make it to The Phoenix Park, the next most beautiful park in the city is St. Stephen's Green, right in the heart of Dublin.
Be shocked and impressed by the game of hurling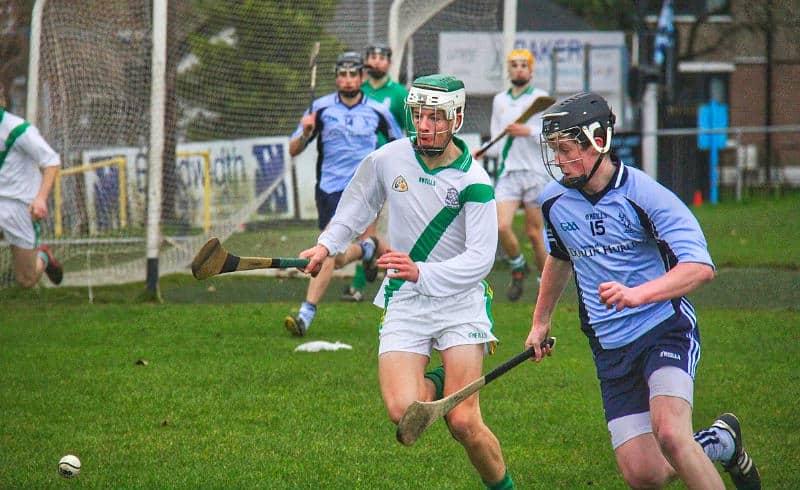 The fastest game in the world. Or as the actor, Jason Statham called it in the movie Blitz, "a cross between hockey and murder". Hurling is a spectacle even for non-sports fans.
Check out a Hurling game and wonder how the players survive more than a few minutes. Some wear helmets. Some appear to have a death wish. It's dangerous and fast. Worth a trip to the home of Gaelic sports in Ireland, Croke Park, on the north side of Dublin.
Taste Whiskey by the experts
For whiskey fans, Ireland is a sort of Disneyland. Especially if you like triple-distilled, smooth whiskeys. (Irish whiskey is generally triple-distilled and smoother than many other whiskeys)
Two Irish whiskey tours worth visiting are at the Jameson Distillery and the Teeling Distillery. Both companies produce some of the best whiskey in the world. The tours are professional and not over-hyped. There's little sense of you getting fleeced for your tourist dollars and more of a sense of pride in the businesses.
I prefer the Jameson Distillery, in case you were wondering.
Start Walking!
Here's something new: leave your iPhone at home. Lose the guidebook. Take those headphones out and walk out of your hotel or apartment.
Now, keep walking in random directions. Go wherever looks like it might lead somewhere interesting. Want to get off the tourist trail? Then get off the tourist trail. By walking off that trail. It's amazing what happens when you get lost without worrying about finding your way back. The great thing is that Dublin is safe enough. There are a few characters walking around (many of which look like they wandered off the set of The Walking Dead) but they are generally harmless. Just give them a wide berth and you'll be fine. Most Dubliners will help visitors without a second thought.
Asking for directions in Dublin, especially if you wander into a pub to do so, could be one of the best ways to discover Dublin. Dubliners like to talk so you'll be fueling the fire by asking for their opinions on the best place to x or the nearest y.
Run The City At Night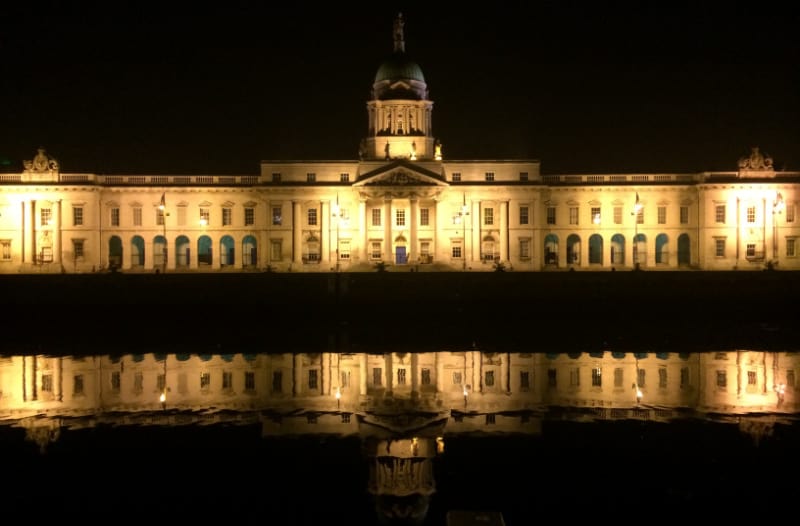 If find yourself in Dublin in April, and you're fit, the Dublin Night Run is a worthy event.
If you like the sound of starting a race at 9 pm with crowds of people in the middle of the city, then sign up for this 10k bucket-list event. The route takes you down some of Dublin's most interesting and historically important streets and across the River Liffey. Attempting to run down these streets while taking in the scenery in the daytime (or indeed any other time of year) will get you arrested. So here's your opportunity to see Dublin in a unique way, legally.
Dance Like Nobody Can See You.
The Dublin Silent Disco Adventure Tour is an alternative way of seeing Dublin. Imagine a sightseeing tour of the city where you dance along to tunes only you and your fellow tour patrons can hear. Follow the flamboyant tour guide/fitness instructor/pied piper as you get fit, have a laugh, and see the landmarks of Dublin all the while receiving puzzled stares and smiles from passersby.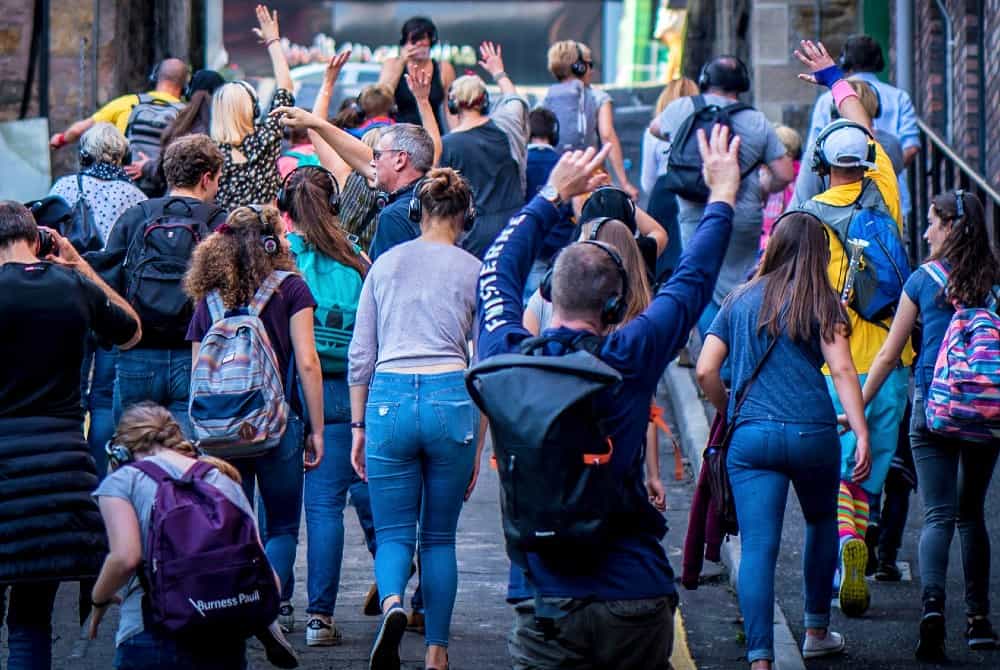 Do you go to raves? Me neither. But here's something I can get behind.
Now that Morning Gloryville (a 6-am rave and healthy breakfast mashup) no longer plans any events, SodaBox is the next best thing. It's is an alcohol-free, hour of dancing in the dark (Bruce Springsteen is not involved). The usual venue closed down at the end of 2018 and, as I write this, the organizers are still looking for a new place. If you're in Dublin and looking for something weird but fun to do, check the Facebook page for updates. You might be lucky.
A healthy, alcohol-free, morning rave-up to start your day. Like many European discos and South American clubs, this place gets going at 6 am. The difference is that it opens at that time and explodes into life (the dream of many nightclub owners). But there's also a focus on healthy entertainment and wellness. It's not about the drugs (although I can't confirm or deny the presence of illicit substances). It's about the movement, the yoga, and the pre-work health food breakfast.
A fantastic idea I hope never dies and heads back to Dublin soon.
Ignore my Advice – Do The Most Touristic Attraction in Europe.
Even if you don't have the fainted interest in Guinness, or beer, The Guinness Storehouse is worth a trip, if only for the historical aspect of the place and the sheer scale of the museum.
The Guinness brand is part of the fabric of old and new Dublin. And the storehouse happens to be Ireland's most popular tourist attraction. The Guinness Storehouse has been named Europe's best attraction, beating the Colosseum in Rome and The Eiffel Tower to name a few.
How good is it?
It feels like a tourist conveyer belt in there but there's no denying that the building and the exhibitions are impressive. The history of the Guinness Brewery and the Guinness family is an essential part of Irish history and the history of Dublin itself. This is an important business
Make Your Own Coffee
Some of the best baristas in Europe call Dublin home. And if you like coffee (I know you do), why not learn from the best with a coffee workshop!
Take a class on the craft of the barista! Dubliners have taken to coffee like butter on toast. There are coffee shops in every corner of this city and the quality is good. Hipsters have helped move the coffee culture to the next level, and Dublin's baristas have made the finals of the World Barista Championships a few times.
And once you've mastered the art of brewing coffee, here's where to get the best roasted beans in Dublin.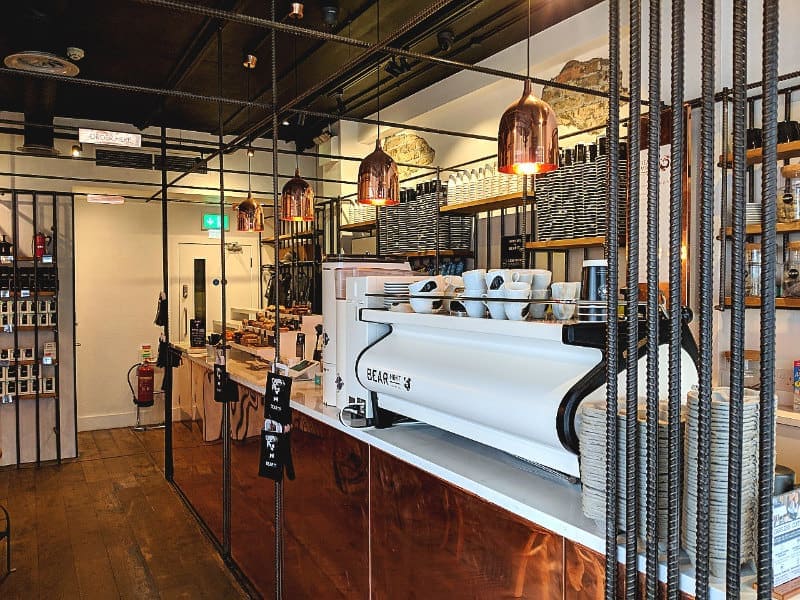 Be a Day Tripper
As long as you avoid rush hour, Dublin is an easy place to get out of. Take a day trip out to these destinations to experience another side of Dublin. It's best to make these trips in the summer months but as it rarely snows in Dublin, the worst you will get in winter is wind and rain.
Howth Head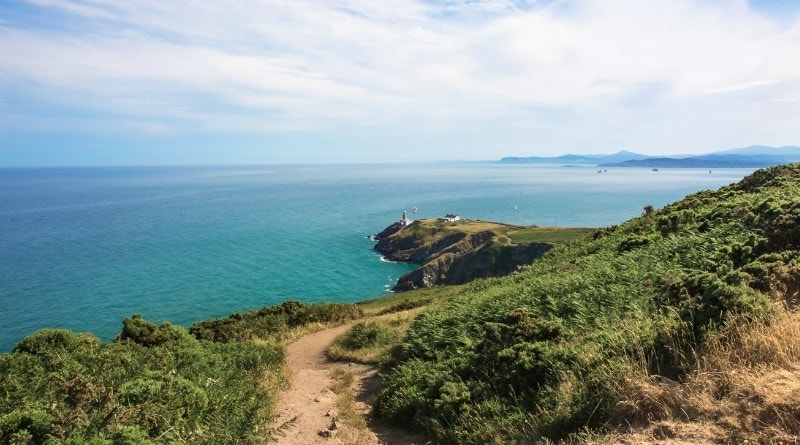 Walk around one of the nicest parts of the country and check out the posh houses. The circumnavigation of the peninsula here is a worthy walk and you'll want to see the incredible views. Standing on the edge of the walkway you feel almost surrounded by the water. On a sunny day, this feels more Mediterranean than mid-Atlantic. This spot also offers one of the best views of Dublin bay.
But walking around the Head is for tourists. Why not run it? Yep, you can join other fit and slightly unhinged people that like to run over rocks beside cliffs.
Check out the Irish Trail Running website for more details of the 12km Howth Peninsula Trail Run
If you're around in October, you can even take part in a 10km run (it's a race, but they're probably trying to be inclusive)
Howth is also one of the best spots in the country to get some seafood.
Glendalough
Glendalough is a gorgeous part of Ireland that feels a million miles from the bustle of the city. This glacial valley of lakes and trees is just an hour away and easily reachable by car. Going by bus? Check out the timetable here.
---
Final Recommendations
If you're looking for all the advice on Temple Bar, sorry to disappoint you. As one of the most touristic areas of Dublin, Ireland Temple Bar has been covered by a million other bloggers. I'd like to recommend you visit other parts of the city and not fall into the trap of spending the day drinking over-priced beer and shopping for souvenirs. There's more to Dublin than Temple Bar and there are plenty of better, non-touristy places to explore. I just wish the tourist board would wake up to that fact.
Frequently Asked Questions
Are the Iveagh Gardens worth a visit?
Yes, if you've got time. The Iveagh Gardens are small and secluded and there aren't any tourist attractions or notable things to do. But it is the perfect place to relax in nature in the middle of the city.
How can I transfer from Dublin airport to Dublin city centre?
You have several options: take a taxi outside the airport or order a cab with the Bolt App, rent a car, take the Dublin Airlink 747 and 757 buses, or use the Aircoach service.
Where can you find the Georgian doors of Dublin?
Head for the south side of the city and walk around Saint Stephen's Green, Merrion Square, Mount Street Upper, and Fitzwilliam Square. Also, check out the Georgian townhouse of 14 Henrietta Street located north of the River Liffey.