Dublin is unlikely to rival bakeries in France or Italy any time soon (although I can imagine Waterford might have bragging rights over Ireland's capital on this topic). Dublin, however, has some incredibly skilled bakers slaving over hot ovens and leading the way in the post gluten-free era.
Nowadays, international inspiration and sourdough starters are the mainstays of our bread and pastry obsession. So here they are, the best bakeries Dublin has to offer.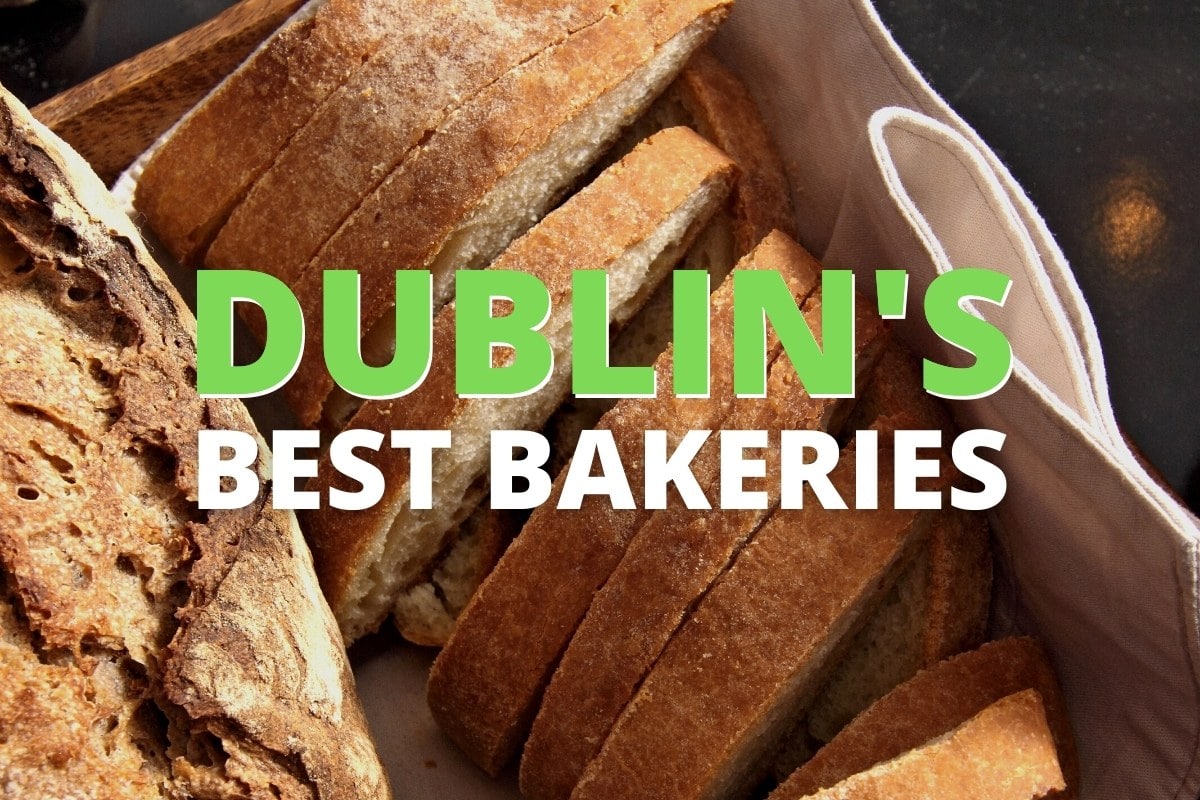 Ayla
30 Capel St, North City, Dublin 1, D01 F593
Best for: baklava.
It's hard to miss Ayla if you're walking by Capel Street, Dublin's ethnic food centre. A window display features the sweetest baklavas and the saltiest, carb-heavy boreks.
Borek pastries like Ispanaklı Kol Böreği (spinach roll pastry) are particularly noteworthy and reasonably priced at only €3. Not all the staff speak great English, but they are always as helpful as possible. They also have probably the best Turkish Delight in Dublin, heavy with nougat and nut textures and gooey gelatinous sugar. Make sure not to miss it!
This is a great spot for traditional Turkish baked goods. But they're not shying away from modern Ireland, and even have a Whatsapp-based ordering system.
Bread 41
41 Pearse St, Dublin 2, D02 H308
Best for: Sourdough bread.
Truthfully, this whole article could be spent waxing lyrical about Bread 41.
From the outside, Bread 41 looks more like a soup kitchen operating in the outskirts of a major, yet deprived American city, except it has over 1000 glowingly positive Google reviews. It's right under the DART overpass on Pearse Street and there is always a queue outside.
Some highlights:
Bread 41 uses all organic flour.
They mill some of their own flour on-site.
All of their bread is made from their own sourdough starters.
The company is increasingly sourcing from Irish farmers who are using a larger variety of traditional grains.
You're just going to have to experience this yourself. Words can't do it justice.
For as little as €120, you can enjoy a baking class packed with fresh bread, sourdough starter, and breadmaking skills to impress your friends, family, and lovers. And you can expect to leave with the pleasant smell of fresh bread hovering around you.
Camerino Bakery
​​158 Capel St, North City, Dublin 1, D01 ND36
Best for: range of cakes.
In the past ten years, Camerino Bakery has won many awards which it continues to win to this day. They are proud of the quality of the Jewish-origin bread and the artistry involved in producing their classic cakes.
Among their offerings are classic and bespoke cakes. The cake menu is a visual spectacle that includes pressed wildflower cakes, vegan party cakes, and an incredibly vibrant smarties cake.
The lunch menu at Casarino is limited but of high quality. Their two options are a honey-baked ham sandwich with Ballymaloe relish, or a vegetarian sandwich with peanut rayu and cream cheese. Both come on Challah roll.
Custom baking classes or recurring setlists are also available. Classes are intimate and limited to four people, but at a somewhat steep price of €200 for 3.5 hours.
Bretzel Bakery
1A Lennox St, Portobello, Dublin, D08 RK23
Best for: all round great sweets, delicious cakes, and savouries.
The pride of Lennox St, Portobello. Crusty, pillowy, floury and squishy; Bretzel has it all. From the humble baguette to San Francisco-style white sourdough. Bretzel describes itself as "open to new ideas while keeping its spirit and traditions intact". They've lived up to this claim, and have served the Portobello community and beyond for over 150 years when it was popular with Portobello's Jewish community.
Since September 2021 they've been offering traineeships for aspiring artisan bakers and ensuring their reputation will span another century!
Their fresh bread is healthy, nutritious, and is made with care, something that should be expected from any good bakery, but which is often lacking in Ireland's bakeries that prioritize customer numbers over product quality.
Bretzel has been incredibly successful and you can find their products in independent shops, high-end stores like Lotts & Co, Donnybrook Fair, and Fresh, as well as the Tesco's in the more bougie areas of Dublin.
Scéal Bakery
Fumbally Ln, Merchants Quay, Dublin
Best for: experimental baking.
Scéal is one of the most brilliant bakeries in Dublin and can be found on Fumbally Lane, Merchants Quay. The innovative bakery successfully incorporates cultures and flavours from other cultures without seeming to appropriate them, such as the kimchi bearclaw, a nutty, spicy, cheesy croissant that looks as tantalising as it tastes. They say it better than I can though "Think of the best cheese toastie you've ever had and then imagine it in a croissant."
The brilliantly-named 'Pastry Bae Thursdays' offer the chance to participate in and taste their food experiments.
They take orders online, but it's a competitive buyers market and they pride themselves on ensuring everything is as fresh and tasty as it can be, which can limit options and supply.
You can find some of the bakery's range of bread in The Hopsack in Rathmines. The Hopsack have their own worthy selection of unique sweet treats too made by their own cook – in all gluten-free, vegan, and other restrictions, but they don't hold back on taste!
Hansel and Gretal Bakery & Patisserie
20 Clare St, Dublin 2, D02 TD45
Best for: coffee and cake
Hansel and Gretal is less aspirational than the other excellent bakeries on this list. The artisan bakery doesn't offer classes, and it's not scheming for newness. Instead, they focus on providing a pleasant experience with the best quality products. No matter who you are, you'll have a comfortable and enjoyable experience here.
They serve traditional Irish soda breads as well as delicious pistachio bakewell tarts. It's got that great homely feel, keeping on the tradition of what Irish people grew up as in the early days of globalisation: glazed fruit on top of tarts with a thick, biscuity crust. Or creamy, pillowy pastries with a little strip of super sugary raspberry jam.
Despite their lack of fancy bread, their bread is high quality, and that's nothing to criticize. Hansel and Gretal's bakery's power is in its simplicity.
Legit Coffe Co
Best for: atmosphere
This place doesn't actually do its own baking, but it is one of the best places to get a curated menu from Dublin's best bakeries. The owners, a Brazilian-French duo, know how to stack their cafe with unbelievably good quality products and it would be criminal not to include them in this list. Additionally, its interior design is tastefully done, utilizing natural and low lighting, as well as comfy stylish furniture.
Everything about Legit Coffee Co is refined to perfection, from their (gluten free) caramelised pecan fudge brownies, to their chorizo and Emmental croissants. There are dulce de leche and chocolate cookies for Latin Americans feeling homesick, and oreo chocolate chip cookies for more traditional cookie lovers. Don't miss their sausage rolls either. I highly recommend the sauteed mushroom and onion stuffing rolls.