Dublin has never been famous for its food, and it is unlikely that coddle will break out as an international hit. But the world's best foods have come to Ireland's capital. Rising immigration in an increasingly global city has changed the Irish tastebuds forever.
"Good puzzle would be cross Dublin without passing a pub". This famous challenge was proposed by Leopold Bloom in James Joyce's Ulysses. Joyce thought it was impossible (it is possible, but it's quite difficult!). Dublin's food scene gets better every year, and soon it might be difficult to cross the city without stopping in for a bao, burrito, or baklava in one of the many new ethnic eateries.
Ireland's absence of strong culinary history has even opened up a lot of room for experimentation without the embedded snobbery of more established food scenes.
Here are our picks for the most fab foreign food in Dublin. Trust me when I say that your taste buds will thank you. It's time for some epic ethnic eating as Dublin reopens in 2022.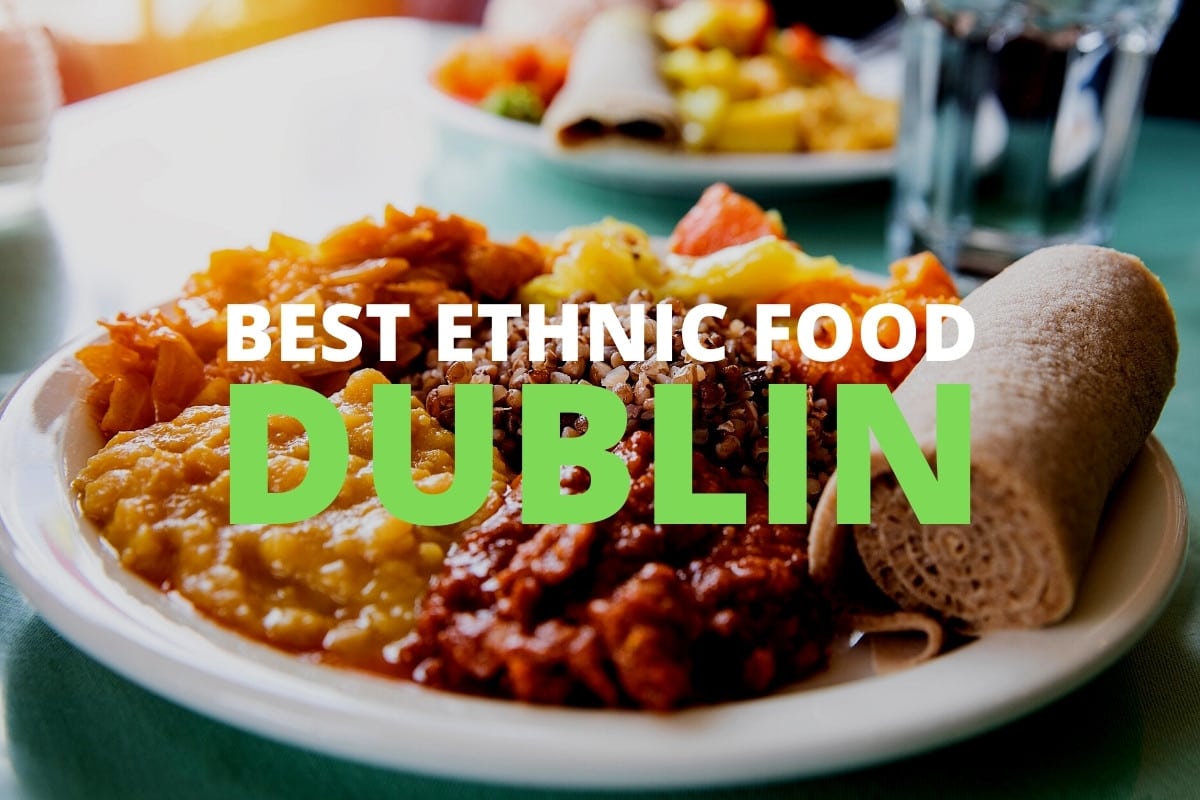 Chinese: Xi'an Street Food
16 N Earl St, North City, Dublin D01 P7R8
Xi'an Street food does Dublin City proud. Xi'an is one of the best Chinese regional cuisines, so it makes sense that this is one of Dublin's best ethnic Chinese restaurants.
One thing to know about this restaurant: It. Is. Busy! It has the chaos of a Hong Kong dim sum joint, the diversity of a New York restaurant, and the authentic taste of Western China. Delivery drivers queue outside all night, the staff are shouting out numbers to takeaway customers, and dining in is a quick flavour bomb.
It's one of the few restaurants in Dublin where you'll find tinder dates, foodies, teenage lads in tracksuits, and Asians all sitting down for a meal.
Three Chinese food dishes that can't be missed here:
Xi'an Burger (Roujiamo) – The Xi'an version is made with heavily spiced meat in an incredibly crispy, flakey filo-pastry style crispy bun.
Xi'an Ramen Soup – Although biang biang noodles are the region's most famous dish, this ramen style hand pulled noodle soup has a great strong broth with a deep red, oily tone.
Spice Bag – The spice bag has become a quintessential "Irish-Chinese'' dish. It has become something of a competition for Dublin's more authentic Chinese restaurants to elevate the culinary status of the once humble spice bag. This dish has been Xi'anified with a more regional blend of spices and perfectly cooked shredded chicken. It's the Irish-Chinese equivalent of making Michelin star macaroni and cheese. Hopefully, someday this dish will make it over to China.
Ethiopian: Gursha
7a Poolbeg St, Dublin D02 R990
It feels like Dublin dining crossed a culinary threshold when Gursha opened. A city's food scene can't be truly global without a good Ethiopian restaurant. Gursha worked its way up from a pop-up supper club to a food truck. Then it took a brave step and became a restaurant in 2021 during the pandemic. Right now it's the best, and only, Ethiopian spot in town. But hopefully not the last.
Gursha excites the curious, the frugal, and the hungry! For only €21, Gursha provides an injera pancake with a selection of five dishes with different sets of spices. Typical for an Ethiopian restaurant, there are plenty of vegetarian dishes, including a full vegan menu.
Gursha's Ethiopian Dubliner Mel Roddy, wanted to bring more than Ethiopian culinary taste to Dublin. He also wants his restaurant to be a place of cultural exchange. "Gursha" is the term used in Ethiopia that signifies how feeding others is a sign of respect in Ethiopia.
Roddy is adamant about keeping his restaurant authentic. It is Ethiopian, not an Ethiopian-Irish blend. Expect to sit in a beautiful restaurant, listening to Ethiopian jazz, eating with your hands using a series of sourdough injera pancakes. 
Japanese: Musashi
15 Capel St, North City, Dublin D01 E1C0
A list of Dublin's best ethnic food would be missing out if it didn't include at least one Capel Street restaurant. Capel Street has become the unofficial "Little Asia" of Ireland, gaining more credibility than Parnell Street's Chinatown, as well as benefiting from a successful pedestrianization trial. Musashi is deeply embedded in Dublin's Asian food scene. It has 6 restaurants around Dublin city and the suburbs.
Musashi is known for high-quality, low-cost Japanese food with BYOB corkage for dinner. Their menu isn't known for its innovation, but it's a meal that will never disappoint. Even better, it's a safe place to bring foodies as well as "meat and 2 veg" friends. Its ability to please everyone makes it one of Dublin's best ethnic restaurants.
Simply put: it's good food in a good atmosphere at a reasonable price.
Their house mixed tempura has all the subtle nuance you'd expect from the best Japanese restaurants, and the tempura vegetables have a particularly good crunch. It's served with a ginger and shoyu sauce that you'll struggle not to drink after you're done dipping. Their fresh sushi and sashimi are some of the best in town too!
Musashi is on Capel Street, Dublin's Ethnic food street, and the location sets you up nicely for some karaoke down the road when the BYOB runs out!
Brazilian: Wigwam
54 Middle Abbey St, Dublin D01 E2X4
Wigwam is known as a techno-pumping nightclub and, erm, cocktail bar but it also offers some of Dublin's best Brazilian food!
Dublin is definitely missing out on South American food. There are no firmly established Peruvian restaurants, and Mexican food often doesn't go beyond burritos (although this is improving).
Wigwam is a great place for young people to meet friends for a meal with a tipple, including simple but tasty Brazilian drinks like caipirinha. But that doesn't stop it from having some great dinner and snack options. The menu is playful and mixes innovation with Brazilian classics.
Over the last decade, Brazilians have become a massive part of Irish culture, and this chef is doing great things. An unmissable dish that is hard to find elsewhere in Dublin is Wigwam's tropical ceviche. It is made using sea bass, mango and rice flakes, and a puree of chili, lime, and acai.
The best thing on their menu might well be their tapioca squares. They are topped with a Wigwam original: guava jam mixed with ground bacon. It has an incredibly salty-sweet hit that blends well with the crunchy fried tapioca.
Korean: Han Sung Asian Market
22 Strand Street Great, Dublin D01 K8E8
This tightly packed Korean market shop is tucked down a city centre street, on the north side of the river Liffey, just a stone's throw from Capel St. Walking past Han Sung it's easy to miss that this place has a restaurant at the back. They claim to have the "best traditional & authentic Korean food in the heart of Dublin".
They have all the common favourites like bibimbap, gimbap, and mandu (dumplings). But where it really stands out is as one of the few places in Dublin where you can get Korean staples like Tteotbokki. It must be a relief for Dublin's Korean population to have easy access to this incredibly popular dish where fish cakes are boiled in a spicy gochujang sauce with Korean rice cakes. Tteotbokki is kind of like the Korean comfort food equivalent of beans on toast.
Speaking of beans…another strongly recommended authentic Korean dish on their menu is Korean Army Base Stew. Only Koreans could make a mix of sausage, spam, baked beans, ramen noodles, and rice cakes taste amazing.
Try to read their picture-heavy menu without a drool bucket!
Indian: Rasam
18-19 Glasthule Rd, Glasthule, Dublin A96 H2N1
Rasam Indian restaurant is located outside the hustle and bustle of Dublin city. But it's worth a visit out to Glasthule, just beside Dun Laoghaire, for some more upmarket authentic Indian food.
Rasam takes pride in deviating from a "one sauce fits all" style of Indian food that many Dubliners are familiar with. They mix, roast, and grind all their own spices and herbs daily, which leads to much higher quality sauces, and is essential to authentic Indian cuisine.
Their dinner menu has a diverse mix of fish, seafood, vegetarian and meat-based dishes. While often a large menu can be a sign of a restaurant stretching itself too far, fortunately, Rasam successfully breaks that tradition.
Standout dishes include
Gagar Murgh: A lovely, balanced, chicken curry using baby carrot, ginger, tomato and yoghurt.
Mansahari Thali: A tasty meat medley of lamb, chicken, prawns, with aloo podimas, spinach, yogurt served with pulao rice on a silver platter.
Meen Manga Curry: This great seafood main course is made with tiger prawns, coconut milk, and curry leaf with a hit of tangy mango and spicy red chili.
This is the place to come for a wide variety of fresh, authentic Indian food.
Korean (Again!): Kimchi Hop House
160-161 Parnell St, Rotunda, Dublin D01 Y4A7
There's already a Korean restaurant on the list, but Kimchi Hop House can't be ignored. There was a rallying cry around this restaurant in 2020 over fears it may not survive the pandemic. There aren't many restaurants like this in the world. As the name somewhat cryptically suggests, it perfectly mixes Korean food with the coziness of an Irish "old man pub".
Thankfully, Kimchi Hophouse survived the pandemic and Dubliners can breathe a sigh of relief into their IPA while they wait for their pork kimchi jjigae hansang set to arrive!
Don't even think about going to Kimchi Hop House without trying their KFC (Korean Fried Chicken). The KFC with yangnyeom sauce is particularly good, the stickiness of the yangnyeom works well with the twice-fried crispy potato starch batter of KFC.
This is one of the best value restaurants in Dublin so budget-conscious foodies should check it out.
They also have their own take on a spice bag that may even rival Xi'an's version. The spice bag competition is heating up! Soon Dubliners will be eating Sichuan spice bags and other great food!
Dublin based food, travel, cultural and environmental writer; part-time biang biang noodle aficionado, cross country cyclist and dumpster diver